ISIS wannabe recruit accused of organizing 'small army' near NYC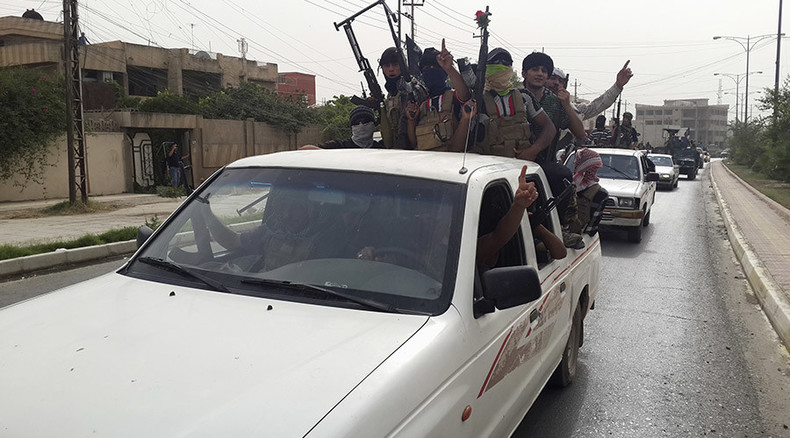 A former New Jersey resident was arrested and charged Monday for allegedly conspiring with others in the New York City area to provide material support to the Islamic State jihadist group, according to federal prosecutors.
Nader Saadeh, 20, formerly a resident of Rutherford, New Jersey, was arrested on Monday, according to the US Department of Justice (DOJ). He was previously taken into custody in Jordan, according to NBC New York.
Saadeh had declared hatred for the United States online in recent years, the DOJ said. Over the past two years, he has been saying he wanted to form a "small army" of likeminded friends. The DOJ said he posted images of the flag of Islamic State (IS, formerly ISIS/ISIL) on Facebook the day the group declared an Islamic caliphate in Syria and Iraq.
READ MORE:US ex-intelligence chief on ISIS rise: It was 'a willful Washington decision'

The case against Nader Saadeh was bolstered by a federal law enforcement informant "who was close to him for years," according to the DOJ.

Alaa Saadeh, Nader's brother, was arrested on June 29, 2015, and charged with conspiring to provide material support to IS, aiding and abetting an attempt to provide material support to IS, and witness tampering. Two others associated with the plans have also been arrested and face similar charges.

The informant said that by April 2015, Nader Saadeh was preparing to travel overseas with others in support of Islamic State, a DOJ-designated terrorist organization.

Federal law enforcement said it had proof that Nader Saadeh watched Islamic State propaganda videos and sought to fly to Turkey, near Syria, where Islamic State began its rise amid the Syrian civil war. Saadeh allegedly praised the Islamic State's execution of a Jordanian pilot and the Charlie Hebdo murders in Paris.

The FBI also said it obtained evidence that his mother, who lives overseas, pleaded with him not to join Islamic State.
READ MORE:Saddam-era veterans account for ISIS battlefield victories, dominate group's top command - report

On May 5, 2015, Nader Saadeh flew out of New York City's John F. Kennedy International Airport to allegedly join Islamic State. He planned to join his brother and two others abroad in a few weeks. He was supplied with the name and number of an Islamic State contact who was to meet him near the Turkish-Syrian border and lead him into Islamic State territory. However, he was taken into custody in Jordan before he managed the rendezvous.

Federal officials also claim some of the suspects had scouted New York City landmarks as possible targets, but that no solid plans had been put into action.

Nader Saadeh faces up to 20 years in prison. He is due to appear at a federal court in New Jersey on Monday.