3,318 yrs behind bars: Colorado theater shooter formally sentenced to life in prison
Published time: 26 Aug, 2015 22:59
Edited time: 26 Aug, 2015 23:08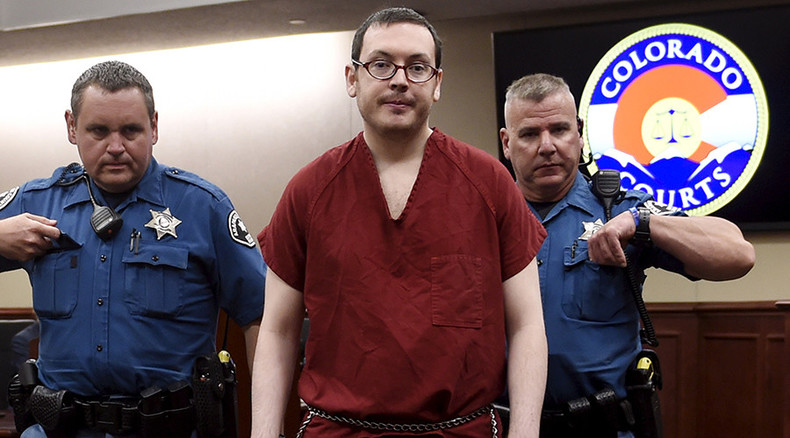 Colorado theatre shooter James Holmes, who killed 12 people 3 years ago, received 12 life sentences and the maximum of 3,318 years in prison. A Colorado judge said he "does not deserve any sympathy."
The 27-year-old gunman was sentenced to life in prison on Wednesday, after a jury failed to reach unanimous agreement on the death penalty, Reuters reported. During a midnight screening of a Batman film in a Denver suburb on July 20, 2012, he killed 12 people and wounded 70 with a semiautomatic rifle, shotgun, and pistol.
READ MORE: Colorado theater shooter avoids death penalty, sentenced to life in prison
"It is the court's intention that the defendant never set foot in free society again ... If there was ever a case that warranted the maximum sentences, this is the case," Arapahoe County District Court Judge Carlos Samour said, as cited by Reuters.

Holmes, a former neuroscience graduate student who dropped out of a postgraduate program at the University of Colorado in Denver, was diagnosed with schizophrenia. However, the judge said that his carefully preplanned act of violence had been driven by "moral obliquity, mental depravity,… anger, hatred, revenge, or similar evil conditions."
See it: Colorado theater shooter's notebook released in its entirety: CENTENNIAL, Colo. — Exhibits from Tuesday's… http://t.co/wD8Om2w5DD

— Winston Salem Now (@winstonsalemnow) May 28, 2015
The trial, which began in April, was complicated, because it had to determine if the motives of the defendant, who had tried to kill "as many innocents as possible," could be detached from his mental condition.

"We tend to like simple answers, but maybe it's not so simple," Samour said. "And maybe that's because we're not where we need to be in the fields of psychiatry and psychology."
READ MORE: Movie theater killings suggest disturbing pattern

District Attorney George Brauchler, who called for the toughest possible prison term for Holmes, said that "He has never expressed remorse."

According to Reuters, it is still unknown where Holmes will serve his sentence, and the murderer could be transferred out of state. He could even end up in the mental hospital of the corrections department in Pueblo, AP reported.
READ MORE: Cinema crackdown: Regal begins searching bags in wake of theater attacks
Defense lawyers, who based their case on Holmes' psychotic delusions and a childhood obsession with mass killing, reportedly have no plans to appeal.

"You know your healing is not tied to the defendant's fate," the judge told the families of the victims. "Even despite all the pain and suffering you've been through, you're not quitting, and you're hanging in there, and you're fighting. You have my admiration."