Movie theater killings suggest disturbing pattern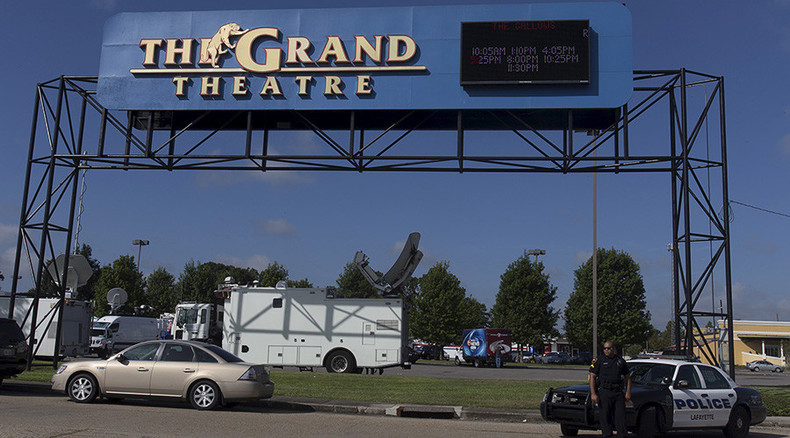 A shooting spree in Louisiana has renewed calls to install extra security at movie theaters, as some ask if murderers are deliberately targeting people at the movies as places where Americans go to escape from reality.
Before turning the gun on himself, Thursday's shooter in Lafayette, Louisiana injured seven and killed Mayci Breaux, 21, and Jillian Johnson, 33. Police identified the gunman as 59 year-old John Russell Houser, a drifter from Alabama with mental health issues.
The attack came during the sentencing hearings for James E. Holmes, who killed 12 and injured 70 moviegoers in the July 20, 2012 attack in Aurora, Colorado. Holmes faces life in prison without parole or the death penalty.
READ MORE: Aurora theater lacked security on night of Batman shootings
Few things are as quintessentially American as movies on the big screen. US cultural influence around the world, shaped by Hollywood and television, is arguably more powerful than the military kind.
"Going to a summer movie is a celebration of the American creative spirit and one of our nation's most beloved pastimes. Let us stand together in these times of tragedy and embrace what is precious to us," the American Film Institute said in a statement following the Lafayette attack.
Violence in film houses is not a recent phenomenon. However, in years past it seemed confined to gangs and criminal elements fighting each other at showings of films that dealt with crime themes, such as 1979's 'The Warriors' or 'The Godfather Part III'.
That changed in 2006, according to Jason Bailey writing at Flavorwire. In June 2006, a medical student by the name of Mujtaba R. Jabbar, 25, shot and killed 62-year-old Paul Schrum at a screening of 'X-Men: The Last Stand' in Baltimore. Jabbar then calmly surrendered to the police.
"I killed someone because I was mad… because of the way things are going in my life," Jabbar reportedly told police officers. He was convicted of first-degree murder and committed to a state psychiatric facility.
After that, Bailey wrote, violence at the movies shifted into a pattern of "disturbed, gun-toting individuals choosing movie theaters as places to harm others and/or themselves."
Not all incidents involved guns, though. In February 2008, two men were stabbed at a screening of a horror film in Orange County, California. In 2009, a teen moviegoer in Long Island, New York was stabbed by a theater security guard after refusing to leave the lobby. Another moviegoer in Los Angeles was stabbed in the neck after an argument over cell phone use in 2010.
Two other incidents of arguments over talking or texting that escalated to use of weapons involved a military veteran (Philadelphia, 2008) and a retired police officer (Florida, 2014).
After the Aurora theater massacre, the National Association of Theater Owners worked with the Department of Homeland Security to improve safety measures at movie houses, but stopped short of installing metal detectors or extensive security checks.
The inevitable cries for gun control will likely be countered by Second Amendment advocates pointing out that movie theaters are already gun-free zones, "soft targets" that shooters pick knowing their law-abiding prey will be defenseless. Allowing filmgoers to be armed in order to deter attackers is unlikely though, due to political opposition. Odds are that movie houses will be given the same treatment as airports, government buildings and sporting venues – all in the name of safety that somehow always remains elusive.