Cinema crackdown: Regal begins searching bags in wake of theater attacks
Published time: 20 Aug, 2015 16:42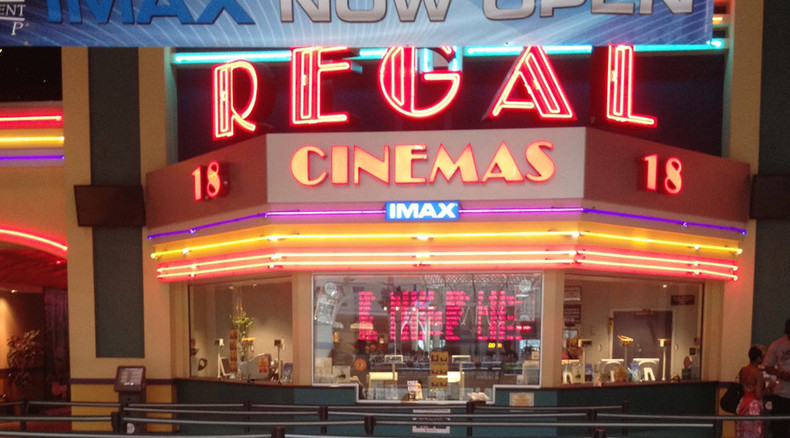 Following the deadly attack in Louisiana and the incident in Tennessee, the biggest US movie theater chain announced it would be searching moviegoers' bags. While this may stop outside food and drinks, analysts are not sure that it will prevent a rampage.
The bag search policy appears to have gone into effect sometime this week. Regal's website informs moviegoers that "To ensure the safety of our guests and employees, backpacks and bags of any kind are subject to inspection prior to admission."
"Security issues have become a daily part of our lives in America," the company says. "We acknowledge that this procedure can cause some inconvenience and that it is not without flaws, but hope these are minor in comparison to increased safety."
Regal Cinemas is the largest movie theater chain in the US, with 7,334 screens in 588 locations. So far, their bag search policy appears to be an exception in the industry. Other major theater chains, AMC and Cinemark, have not announced similar measures yet.
Patrick Corcoran, a spokesman for the National Association of Theatre Owners, said that "NATO does not comment on security policies."
The most recent deadly attack took place on July 23 in Lafayette, Louisiana, when a man opened fire at the screening of the romantic comedy 'Trainwreck.' Two women, 21-year-old Mayci Breaux and 33-year-old Jillian Johnson were killed, while seven people were wounded. The shooter was identified as a 59-year-old man with mental health problems.
Two weeks later, a hatchet-wielding attacker interrupted a screening of 'Mad Max: Fury Road' in Nashville, Tennessee. Several moviegoers were pepper-sprayed, and one suffered cuts and bruises from the hatchet. The attacker was shot and killed by the police.
Industry observers are not sure whether Regal's policy will encourage or deter attendance at the movies.
"Moviegoers have become so accustomed to having these types of security measures enacted in all kinds of public spaces, from theme parks to sports venues and rock concerts," Paul Dergarabedian, senior analyst for entertainment research company Rentrak, told USA Today. "Regal has decided to make a concerted effort to show their patrons that they're aware of security issues."
"I don't think anyone is going to stay away from a movie theater because of increased security measures. If anything, they're going to appreciate it," Dergarabedian added.
While searching bags may make moviegoers less fearful of potential attacks, it creates a set of other problems, says Jeff Bock from the research firm Exhibitor Relations.
"It's a pretty big thing to ask for 16-year-old employees to search through bags for possible firearms. This kind of changes the duties of a theater employee from making popcorn and sweeping floors to basically being a low-rent security guard." Bock told USA Today, wondering what exactly is supposed to happen if and when someone actually finds a weapon.
More likely, he said, theater staff will find outside food or drinks, traditionally banned from movie houses in order to promote on-site concessions. "Maybe that's the Regal ulterior motive," Bock said, "stopping illegal Milk Duds from getting into theaters."
Movie screenings have been occasions for violence in the past, but until recently trouble seemed to be associated with specific films and their subject matter, such as gangs or crime. Since about 2006, however, moviegoers increasingly became targets of random rampages by individuals later found to be mentally unstable.
The deadliest movie theater attack took place in July 2012, when James Eagan Holmes opened fire at the screening of a Batman sequel 'The Dark Knight Rises' in Aurora, Colorado, killing 12 and injuring 70 people. Holmes was sentenced earlier this month to life in prison without parole, as the jury could not agree on the death penalty. The Century 16 multiplex in Aurora is owned by Cinemark.