'Blunt impact projectiles': New 'less lethal' ammunition marketed to police forces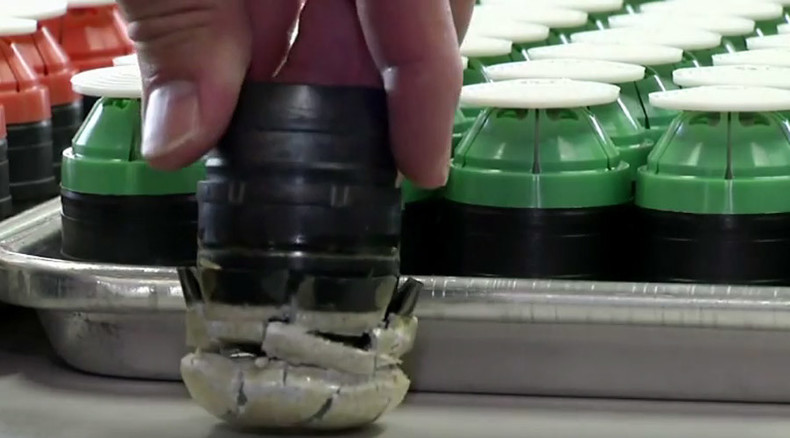 Twenty-two police departments in the US and Canada are testing a new, "less lethal" form of ammunition strong enough to incapacitate someone without the harm vested in regular bullets. "Blunt impact projectiles" are likely to be used in protest scenarios.
Larger than rubber bullets, "blunt impact projectiles" (BIPs) come with silicon heads than expand and collapse upon impact, enabling "kinetic force to be applied to an increased body impact area. The impact covers a large surface area of nerve endings, creating increased pain while dispersing the inertia," Security Devices International (SDI), a weapons technology company responsible for the product, says on its website.
Sixteen law enforcement agencies in the US and six in Canada have purchased BIPs, including SWAT units of the Los Angeles County and Sacramento County Sheriff's Departments in California, and police departments in East Hartford, Connecticut; Sioux Falls, South Dakota; and Los Alamos, New Mexico, according to AP.

BIP operators should shoot the projectiles at legs or arms, but they should not be aimed at someone's head, according to Gregory Sullivan, SDI's chief executive officer. He said BIPs could still cause serious injury or death from a close-range headshot.
The company that manufactures the BIPs told the Associated Press that it is designed not to break the skin, therefore making it unlikely to cause internal damage.

"The projectile is about the size and weight of a golf ball, and it's traveling at about the speed of a golf ball off the tee," said Salvatore Emma Jr., president and CEO of Micron Products Inc., maker of the weapon. "It's got enough mass behind it -- about 50 grams -- to deliver a wallop when it hits you, like almost being hit with a rubber hammer."
Security Devices International (SID) hired Micron to produce BIPs, which originated with a ballistics engineering company in Israel. SID has a "BIP family of ammunition" that includes various payload options such as tear gas powder, pepper spray, a pungent malodorant, and a marking powder"effective in riot and crowd control scenarios."
Specialized tool for riots?
Discharge of the colored marking powder "gives the target the impression that they are being targeted for additional force; perhaps of a lethal variety, similar to a warning shot," says the company's description of the marking powder. "The BIP MP offers a psychological effect in helping to enforce compliance on the subject."

"The BIP head and body disfigure after impact, making it difficult for rioters to throw the round back at the firing officer," it adds.
READ MORE: 'Less-than-lethal' ammunition makers profiting off unrest from Ferguson to Israel
One law enforcement officer told AP the projectiles are not useful in high-paced confrontations, but rather for standoff situations.

"This product is not practical to carry on a belt. You'd have to have the time to get it into place; then the opportunity would have to present itself for you to use it," said Sheriff Toby Wishard, who purchased BIPs for his department in Codington County, South Dakota but has yet to use them. "I look at it as more of a specialized tool."
SDI's Sullivan said less lethal weapons like BIPs are developed with officer and target safety in mind.

"Because of the accountability factor that exists today in the law enforcement field ... it just makes good sense and good risk management to use something that's safer and the officers can have confidence in," he said.
Others say supposed less lethal alternatives don't reach the heart of issues between police and the public in the United States today.

"I'm for less militarization of the police, but the main problem and the main deterrent for these different incidents of police violence is holding the police accountable," Brock Satter, with Boston's Mass Action Against Police Brutality, told AP.
READ MORE: Stunning move: NYPD to spend $4.5 million on more Tasers

"I don't think most of these situations are accidents. These are incidents of abuse of power and racism," he added. "To me, that's not a problem you can solve just by using a different weapon."

SDI is currently marketing BIPs to SWAT and National Guard conferences, as well as other trade shows across the US and Canada.

Similar less lethal products are popular with policing agencies. In February, RT reported that the the Ferguson Police Department in Missouri was testing a handgun attachment – known as the Alternative, made by California-based Alternative Ballistics – that fires a ping-pong-ball-sized projectile. The Alternative is strong enough to knock someone to the ground or to break a bone, but it is not forceful enough to kill, even up close, according to Alternative Ballistics.

The Ferguson Police Department, subject of much scrutiny since one of its officers shot an unarmed black teenager last year, was the first police agency in the US to test the $45-per-unit Alternative.
You can share this story on social media: