'Stop serving slavery for dinner': Lawsuit filed against Costco for selling slave-farmed shrimp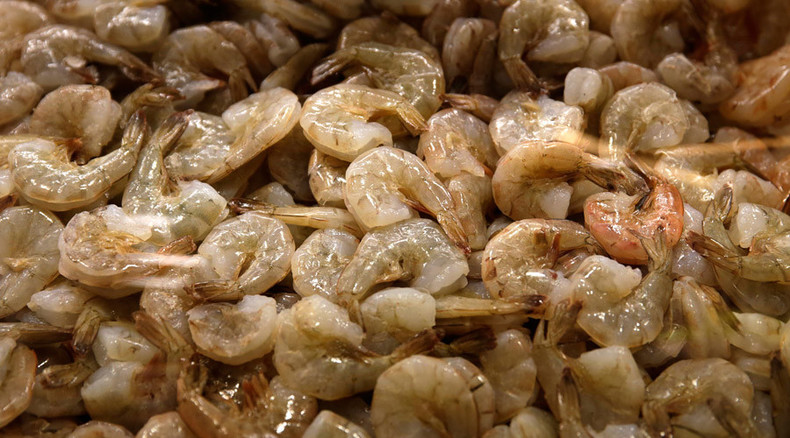 A Costco customer has filed a class action lawsuit in California, alleging that the wholesaler "knowingly" sells its customers shrimp fed with fishmeal collected by slaver ships, and then sold on by large Thai conglomerates. Costco denies the allegations.
"This lawsuit seeks to give Californians confidence that they are not serving slavery for dinner. Slavery in the Thai industry is a huge problem. Costco has the clout to dictate terms to its suppliers and sub-suppliers and enforce its policies against slave labor," said a statement Co-Lead Counsel Derek Howard, from Howard Law Firm, one of three leading state companies that will be taking on the retailer.
The complaint falls under a 2010 state law, which would require Costco to publicly admit that its products have been made with slave labor, if it loses the case. The retailer, which had revenues of $112 billion last year, would be forced to withdraw its frozen prawns and seafood ready meals from the market, and pay compensation to its customers, though the plaintiffs said they were looking primarily "to educate" Californian food shoppers.
"California consumers are unknowingly supporting slave labor. The level of abuse is unspeakable. The truth needs to be exposed so consumers can make informed decisions," said co-lead attorney Niall McCarthy. "As we allege in the complaint, Costco does not advise US consumers, in its packaging or otherwise, that it's farmed prawns products are tainted by the use of slave labor on Thai-flagged ships."
The plaintiffs cite a report published by the Guardian last year, which alleged that fishermen working in the industry off the coast of Thailand and Indonesia suffer from "horrific conditions, including 20-hour shifts, regular beatings, torture and execution-style killings." The industry reportedly employs over 650,000 people, more than 90 percent of them migrants, who possess few, if any, worker rights, and are traded between ships, and are often unable to come ashore for decades, according to the investigation conducted by the UK newspaper.
READ MORE: Torture dinner: Slave-caught seafood winds up in US restaurants, food chains
Mostly, the unregistered "ghost" or "pirate" ships catch fishmeal – seafood that is not fit for human consumption – which they than sell to the multi-billion dollar companies, which farm and export prawns. The fishmeal is used as feed for the extensive prawn farms off the Thai coast.
A US State Department report dating from July has also echoed those allegations, and added that "the Government of Thailand does not fully comply with the minimum standards for the elimination of trafficking, and is not making significant efforts to do so." The report marked the country as Tier 3 or next-to-worst in its slavery rankings.
READ MORE: Walmart, Costco tied to slave labor in shrimp industry
Costco has acknowledged the claims, but denied direct responsibility.
"Allegations concerning issues in the Thai seafood industry have been well publicised for over one year. Costco Wholesale has been working with and will continue to work with various stakeholders (including the Thai government, other retailers, and Thai industry) to address the issues that have surfaced," it said in a statement.
"In the meantime, all of our customers know that if they are dissatisfied with any purchase from Costco Wholesale they can return the item for a full refund."
Costco now has 30 days to mount a defense.