Torture dinner: Slave-caught seafood winds up in US restaurants, food chains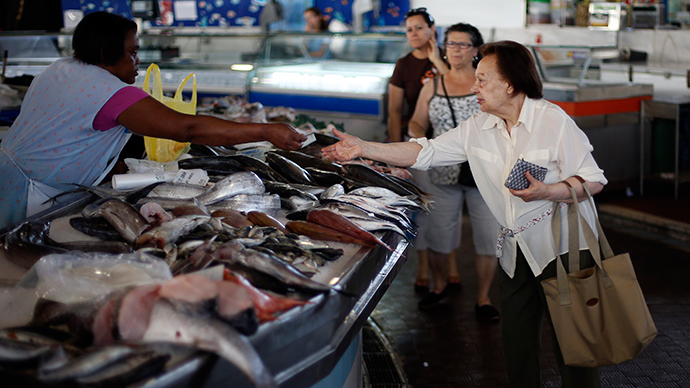 Seafood caught by slaves forced to fish on a tiny island in Indonesia is ending up at major supermarkets, restaurants and even pet stores across the United States, a year-long investigation by AP has revealed.
The AP talked to over 40 current and former slaves in the Indonesian island village of Benjina, where hundreds of men, mostly from Myanmar (Burma), one of the world's poorest countries, are being held captive, forced to fish the surrounding waters.

Meanwhile, the slaves interviewed by AP said they had no clue where the fish they caught was taken. The only thing they know is that it's so valuable they were forbidden to eat it.

They said the captains on their fishing boats forced them to work 24-hour shifts, with no days off. On top of this they were beaten and whipped with toxic stingray tails if they tried to rest. They were paid little or nothing, as they hauled in heavy nets with squid, shrimp, snapper, grouper and other fish.

"I want to go home. We all do," one of the trapped men said. "Our parents haven't heard from us for a long time. I'm sure they think we are dead."

Another man added: "It's torture. When we get beaten, we can't do anything back. ... I think our lives are in the hands of the Lord of Death."

"If Americans and Europeans are eating this fish, they should remember us," said Hlaing Min, a runaway slave from Benjina, told AP. "There must be a mountain of bones under the sea... The bones of the people could be an island, it's that many."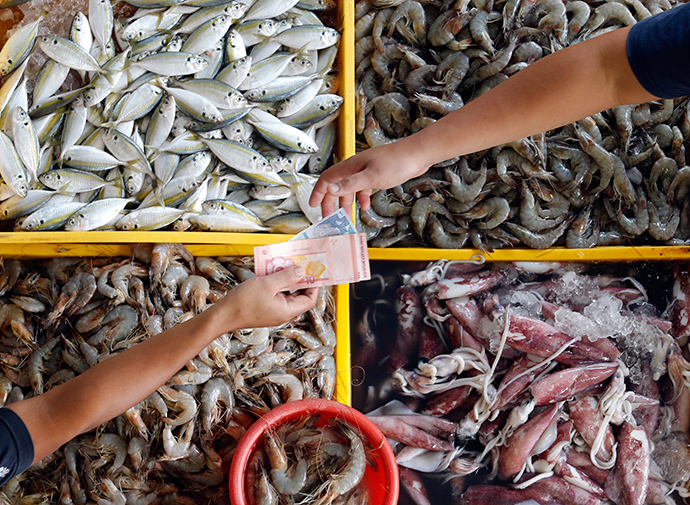 According to a former broker, who spoke to AP on condition of anonymity, in recent years it has become more difficult to convince young Burmese, Cambodian or Thai men — all of whom were found on Benjina — to take low-paid, dangerous jobs as fishermen. As a result, agents became desperate, recruiting children and the disabled, lying about wages and even drugging and kidnapping migrants. Each slave costs around $1,000, according to Patima Tungpuchayakul, manager of the Thai-based nonprofit Labor Rights Promotion Network Foundation. Illegal workers are given false documents and are told they have to work off the "debt" with wages that don't come for months or years on end, if they come at all.

"They tricked me. They lied to me...They created fake papers and put me on the boat, and now here I am in Indonesia," one of the slaves in Benjina, Maung Soe, told AP, adding that he was given fake seafarer's papers belonging to a Thai national and had agreed to work on a fishing boat only if it stayed in Thai waters.

According to the slaves, the level of abuse on the fishing boats depends on the captains and their assistants. Aung Naing Win, who left his wife and two children in Myanmar two years ago, said some fishermen were so dispirited they threw themselves into the water.
Many arrived in Indonesia through Thailand, and their catch was shipped back to Thailand, where it reportedly mixes in with other fish at a number of sites, including processing plants. US customs records obtained by AP show that several of those Thai factories ship to the United States. Tainted fish can eventually turn up in restaurants and the supply chains of some of America's major grocery stores, including the nation's largest retailer, Wal-Mart, and the biggest food distributor, Sysco.

Gavin Gibbons, a spokesman for the National Fisheries Institute, which represents about 75 percent of the US seafood industry, said the reports of abuse were "disturbing" and "disheartening."

''But these type of things flourish in the shadows," he said.
One shipment of slave-caught seafood ended up in a truck owned by Kingfisher and its subsidiary KF Foods Ltd, which sends about 100 metric tons of seafood annually from Thailand to the US, according to US Customs Bills of Lading. These shipments have traveled to Santa Monica Seafood, Stavis Seafoods and other distributors.

"The truth is, these are the kind of things that keep you up at night," said CEO Richard Stavis. "That's the sort of thing I want to stop. ... There are companies like ours that care and are working as hard as they can."

Another shipment followed by AP ended up with a subsidiary of Thai Union, which owns Chicken of the Sea and whose direct clients include Wal-Mart. Thai Union ships thousands of cans of cat food to the US, including household brands such as Fancy Feast, Meow Mix and Iams. These end up on the shelves of Kroger, Safeway and Albertsons, as well as in pet stores.

Wal-Mart, which declined to give an interview, said in an emailed statement: "We care about the men and women in our supply chain, and we are concerned about the ethical recruitment of workers."
READ MORE: Walmart, Costco tied to slave labor in shrimp industry

Wal-Mart referred the AP to Lisa Rende Taylor, director of Project Issara, which aims to tackle widespread forced labor in Thailand's export oriented industries. Taylor said that slave-caught seafood can slip into supply chains undetected when it is traded between boats or mingles with clean fish at processing plants. She confirmed that seafood sold at the Talay Thai market, to where the AP tracked several trucks, can enter international supply chains.

"Transactions throughout Thai seafood supply chains are often not well-documented, making it difficult to estimate exactly how much seafood available on supermarket shelves around the world is tainted by human trafficking and forced labor," she said.

Thailand is one of the key seafood suppliers to America which buys up to 20 percent of the country's $7 billion annual exports in the industry. Last year, Washington put Thailand on a blacklist for failing to meet minimum standards in curbing human trafficking. There were no additional sanctions, however.

While the Thai government has promised a new national registry of illegal migrant workers, the Indonesian authorities have called a temporary ban on most fishing to fight foreign poachers who take billions of dollars of seafood from the country's waters. As a result, more than 50 boats are currently docked in Benjina, according to AP, leaving up to 1,000 more slaves stranded onshore.

Susi Pudjiastuti, the new Indonesian Fisheries Minister, said she has heard of fishing companies putting men in cells.

"I'm very sad. I lose my eating appetite. I lose my sleep," she said. "They are building up an empire on slavery, on stealing, on fish[ing] out, on massive environmental destruction for a plate of seafood."
You can share this story on social media: