Texas family sues fracking company after giant fireball erupts from water well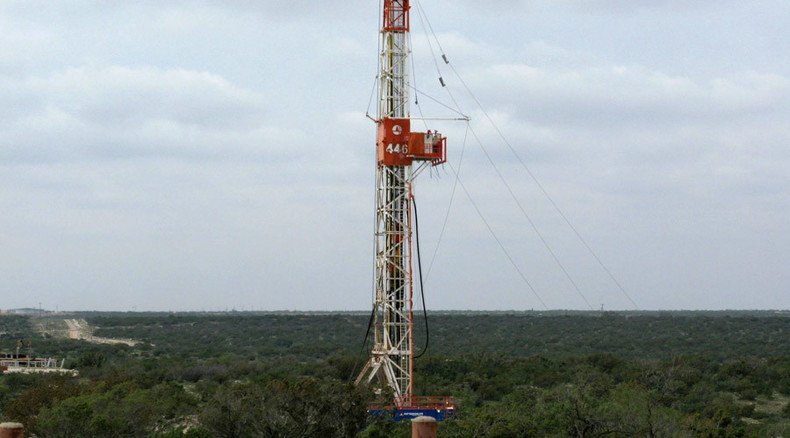 A Texas family is suing a group of hydraulic fracturing companies for causing an explosion on their ranch that they say left the husband burned and permanently disabled. It has also forced them to import water, instead of using their private well.
"It's a very sad case. It's terrible," trial lawyer Christopher Hamilton, who filed the suit in Dallas, told ThinkProgress.
The trouble began on August 2, 2014, when Ashley Murray was filling a cattle trough on their ranch in Perrin, and discovered "pressurized water spraying all over the interior of the pump house," court documents said. She asked her husband Cody to look into the problem. Cody, Ashley ‒ who was carrying their 4-year-old daughter ‒ and Cody's father Jim all headed to the pump house.
"At the flip of the switch, Cody heard a 'whooshing' sound, which he instantly recognized from his work in the oil and gas industry, and instinctively picked his father up and physically threw him back and away from the entryway to the pump house," the lawsuit said.
"In that instant, a giant fireball erupted from the pump house, burning Cody and Jim, who were at the entrance to the pump house, as well as Ashley and A.M., who were approximately twenty feet away," it continued.
Cody suffered severe burns across much of his upper body, as well as neurological damage. After being airlifted to a hospital, he spent a week in the intensive care and burn unit. He still suffers from paresthesias and extreme weakness in his hands and arms, rendering him unable to drive or return to full-time work.
The Murray's daughter suffered first- and second-degree burns to various parts of her body, including her face. "Ashley had to dress A.M.'s wounds three times a day while A.M. screamed and cried in pain," the suit said. Jim also suffered first- and second-degree burns.
The Murrays have been unable to use their private water well for over a year, and have had to pay to have water trucked to their house and placed in an above-ground water tank. As a result, they have sued EOG Resources, Fairway Resources LLC, and three subsidiaries of Fairway, claiming that the companies are to blame for the methane that caused the explosion.
"Rigorous scientific testing, including isotope testing, has conclusively demonstrated that the high-level methane contamination of the Murrays' water well resulted from natural gas drilling and extraction activities," the lawsuit said. "The high levels of methane in the Murrays' well were not 'naturally occurring'."
"The activities of Fairway and EOG are the only possible sources of the contamination," it concluded.
On top of seeking damages for their injuries and financial losses, the Murrays claim that the fracking companies trespassed on their 160-acre ranch.
"Defendants entered Cody and Ashley's land by allowing their natural gas to infiltrate Cody and Ashley's water well, and this entry was physical, intentional, deliberate, willful, and voluntary," the lawsuit said.
Traditionally, plaintiffs have struggled to prove that methane contamination was definitively caused by fracking, but Hamilton said that new methods of testing have allowed scientists to better isolate where the methane accumulation came from.
"This is a potentially landmark case," Hamilton told ThinkProgress. "I think this needs to set off an alarm for industry that they need to be casing these wells properly ‒ in the way that scientists have been telling them for decades."
Texas was also the home of the first US fracking trial, in which a family spent three years battling a gas company, Aruba Petroleum, before winning a $3 million settlement in April 2013. The three members of the Parr family all suffered a decline in health that, their attorneys argued in court, was the result of dozens of gas wells surrounding their home in Wise County, Texas.
Anti-fracking advocates saw the Parr's victory as a sign that energy companies, which continue to work obsessively to shield themselves from the public harms associated with fracking, may not hold as much sway in the future.
This July, the Oklahoma Supreme Court ruled that oil and natural gas companies can be sued for injuries to people and damage to property sustained during earthquakes caused by fracking. The US Geological Survey found that central Oklahoma experienced one to three 3.0 or greater magnitude earthquakes per year from 1975 to 2008. That number jumped to an average of 40 a year from 2009 to 2013.
You can share this story on social media: