​Family awarded $3 million in first US fracking trial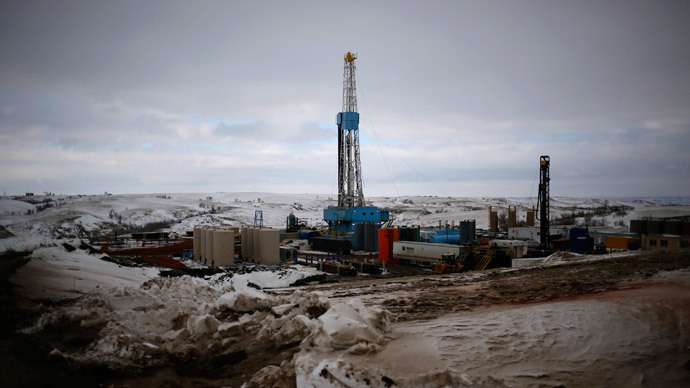 After three years of legal wrangling, a Texas family has won its case against a company engaged in hydraulic fracturing near their home. The family, which suffered tangible health deterioration after the fracking began, was awarded $3 million.
A Dallas jury ruled Tuesday in favor of the Parr family, which sued Aruba Petroleum in 2011 after each member of the family noticed a decline in health that, their attorneys argued in court, was the result of dozens of gas wells surrounding their home in Wise County, Texas.
The family was awarded nearly $3 million in what is believed to be the first fracking trial in US history.
"They're vindicated," the family's attorney David Matthews wrote in a blog post. "I'm really proud of the family that went through what they went through and said, 'I'm not going to take it anymore'. It takes guts to say, 'I'm going to stand here and protect my family from an invasion of our right to enjoy our property.'
"It's not easy to go through a lawsuit and have your personal life uncovered and exposed to the extent this family went through."
Aruba Petroleum will appeal the jury's decision, according to MSNBC. The company argues that there are dozens of gas-drilling operations in the area, thus it is difficult to tell who is responsible for the family's degenerative health.
Other companies that own wells around the Parr's home settled with the family, EcoWatch reported.
The Parrs – Bob, Lisa, and their daughter Emma – said their health suffered beginning just months after hydraulic fracturing, or fracking, operations started in their area, which was in 2008. Lisa said her breathing was impaired, and she was inflicted with nausea and headaches. Bob reported suddenly having around three nosebleeds per week, an anomaly compared to the rest of his life, he said. And Emma also reported nosebleeds, as well as nausea and rashes. She was diagnosed with asthma soon after the drilling began.
"We can't drink our well water," Bob Parr told Dallas' FOX 4 in 2011. "We can't breathe the air without getting sick."
The lawsuit was definitely not the first levied against a fracking company over health impacts, though it has been common for plaintiffs in such cases to settle with companies along with agreeing to strict gag orders.
Last year, a Pennsylvania family reached a $750,000 settlement with gas companies – Range Resources Corporation, Williams Gas/Laurel Mountain Midstream, and Markwest Energy – after suing them for environmental and health impacts caused by their fracking operations near the gas-rich Marcellus Shale. In exchange for the award, however, Chris and Stephanie Hallowich agreed that no member of their family – even their 7- and 10-year-old children - could comment on the case "in any fashion whatsoever."
Anti-fracking advocates see the Parr's victory as a sign that energy companies, which have worked obsessively to shield themselves from the public harms associated with fracking, may not hold as much sway in the future.
"When evidence of fracking's impacts are [sic] shown to an impartial jury in a court of law, they find them to be real and significant," Earthworks Energy Program Director Bruce Baizel said in a statement. "And it shows why the fracking industry is reluctant to allow lawsuits of this type to go to trial."
Baizel said companies attempt to settle out of court, but only with an accompanying gag order that helps hide fracking's effects. Meanwhile, he said, industry and government continue to insist fracking is harmless.
"We hope this lawsuit will make regulators, in Texas and around the country, reexamine their assumptions about fracking's dangers, and their responsibility to keep the public safe," Baizel said.
To unleash natural gas deep underground, fracking requires large volumes of water, sand, and chemicals to be pumped underground. This process has been linked to groundwater contamination, seismic activity, and a laundrylist of healthconcerns for humans and the localenvironment.
You can share this story on social media: