Lifelong 'frack gag': Two Pennsylvania children banned from discussing fracking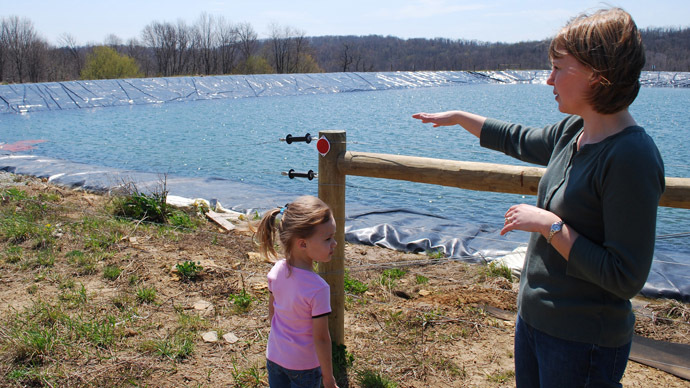 The 7- and 10-year-old children of a Pennsylvania couple that reached a settlement following a lawsuit involving health issues brought on by fracking have been barred from discussing details of the case for the rest of their lives.
Though a gag order is not unusual in itself when large corporations reach a settlement with plaintiffs in court, the August 2011 case of a family that went to court with Range Resources Corporation, Williams Gas/Laurel Mountain Midstream, and Markwest Energy due to the environmental and health impact caused by gas fracking operations has raised eyebrows for its inclusion of the couple's young children.
The Pennsylvania family reached a $750,000 settlement with the gas companies, and have used the award to relocate. In exchange, however, Chris and Stephanie Hallowich agreed that no member of their family could comment on the case "in any fashion whatsoever."
Details of the case only emerged recently when the Pittsburgh Post-Gazette managed to get court transcripts released. The paper's reporters were originally barred from attending the settlement hearing, and had to wait until a three-judge panel of the Pennsylvania Superior Court ruled that a lower court had erred in blocking the unsealing of the records.
Court records, which should have included details of the settlement but did not, paint a confusing picture for Chris and Stephanie Hallowich as they tackled the significance of their gag order.
"We know we're signing for silence forever, but how is this taking away our children's rights being minors?" Stephanie Hallowich asked the judge.
"I mean, my daughter is turning 7 today, my son is 10."
According to the transcripts, Judge Polonsky, who oversaw the case, was unable to clarify. The family's attorney, Peter Villari, questioned whether the order would be enforceable.
"I, frankly, your Honor, as an attorney, to be honest with you, I don't know if that's possible that you can give up the First Amendment rights of a child," stated Villari.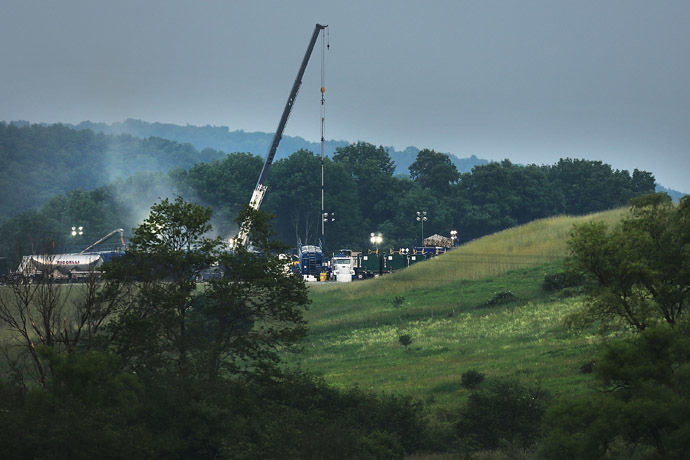 Along with the gas companies, the Hallowich family also sued the state's Department of Environmental Protection. In its ruling to unseal court records, the superior court also noted that the August 2011 hearing during which the record was sealed was held three days prior to schedule, without an official notification of the change of date, reports the New York Times.
According to Bruce Baizel, Energy Program Director at Earthworks, which focuses on mineral and energy development, the motives behind restrictive gag orders post-settlements is to conceal any evidence of adverse environmental impact from hydraulic fracturing, or fracking.
"The refrain in the industry is, this is a safe process. There's no record of contamination. That whole claim would be undermined if these things were public," Baizel told ClimateProgress.
Moreover, attempts to measure the number of settlements with non-disclosure agreements have failed.
"They don't have to be registered, they don't have to be filed. It's kind of a black hole," says Baizel.
Prior to the settlement the Hallowichs said that nearby gas drilling had caused "burning eyes, sore throats, headaches and earaches, and contaminated their water supply."
Once the settlement was reached and the gag order enacted, however, a spokesman for Range Resources stated that the family had "never produced evidence of any health impacts," and that the Hallowichs primary motive for moving was instead due to "an unusual amount of activity around them."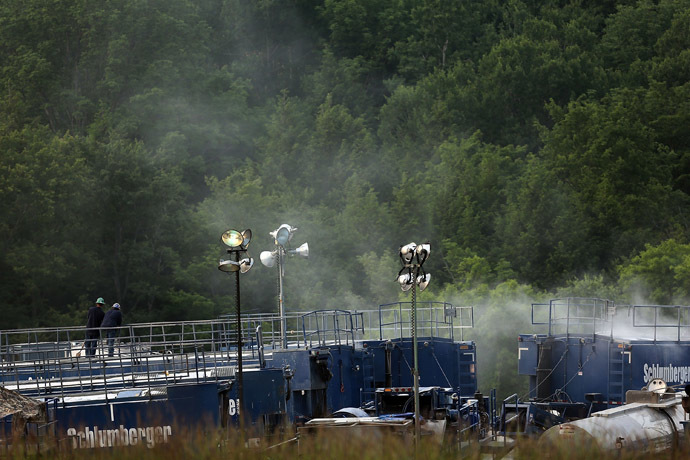 "These gag orders are the reason [drillers] can give testimony to Congress and say there are no documented cases of contamination. And then elected officials can repeat that," said Sharon Wilson, an organizer with Earthworks who also spoke with ClimateProgress.
Pennsylvania is ground zero in the current US fracking boom, with several companies taking advantage of the great reserves contained within the Marcellus Shale region of the state. With that boom have come questions over the hydraulic fluids being used by gas companies to extract energy.
According to a 2010 congressional investigation, Halliburton along with other fracking companies had used 32 million gallons of diesel products, including toxic chemicals such as benzene, toluene, ethylbenzene and xylene. Low levels of exposure to such chemicals can trigger headaches and dizziness, while higher exposure can cause cancer.
An agency official told congressional investigators in 2011 that the EPA assumed that the use of diesel in fracking had stopped seven years ago. The total amount of diesel in that instance was calculated based on voluntary disclosures by companies like Halliburton.
As for the gag order on the Hallowich family, Range Resources recently appeared to back away from indications that it applied to the two children, though it was unclear at this time whether the other companies involved in the settlement agreed on that point.
"Those comments are not accurate from our former outside counsel and are not reflective of our interpretation of the settlement," wrote spokesman Matt Pitzarelli in an email to StateImpact when questioned about the case.
"The seven and ten year olds are free to discuss whatever they wish now and when they are of age," added Pitzarelli.
According to the attorney representing the Hallowichs, since moving their health has improved significantly.
You can share this story on social media: