Oklahoma says fracking companies can be sued over earthquakes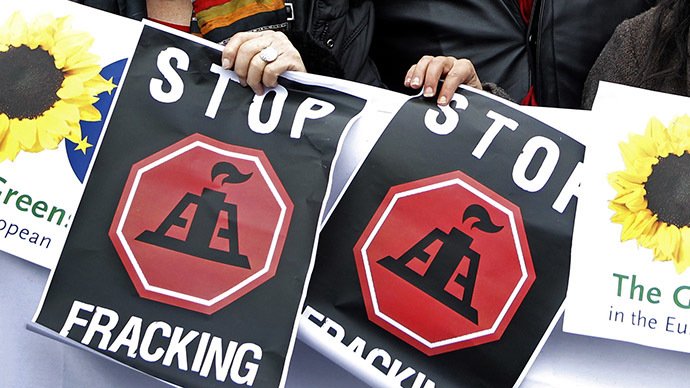 Oklahoma's highest court agreed energy companies can be sued for injuries to people and damage to property sustained during earthquakes.Plaintiffs in two lawsuits claim fracking companies are responsible for the earthquakes.
In a 7-0 decision, with two justices abstaining, the Oklahoma Supreme Court ruled Tuesday that the plaintiff, Sandra Ladra, may seek damages from two energy companies for injuries sustained to her legs during an earthquake on November 5, 2011.
The quake shook the victim's hometown of Prague, causing rocks to fall from Ladra'a chimney onto her legs. It was the highest magnitude trembler the state has ever experienced, registering 5.7 on the Richter scale.
"The size of rock is about the size of your head, certainly, and a significant sized and heavy rock," Scott Poynter, Ladra's attorney, told KFOR News Channel 4.
Poynter told the news channel Ladra is not looking for a payout, but the industry needs to stand up and pay for the problems they're causing. Ladra has been in pain since the incident and Poynter said she is going to have knee replacement surgery.
WSJ: Fracking's New Legal Threat: Earthquake Suits: A lawsuit in Oklahoma highlights a new question for energy… http://t.co/TKIi0Svc5R

— Indian Editorials (@IndianEditorial) March 30, 2015
Specifically, the lawsuit was filed against two Oklahoma companies, New Dominion and Spess Oil Company. It claims the companies' storage of wastewater from the fracking process in high-pressure disposal wells is causing shifts in fault lines, resulting in earthquakes.
Earthquakes have been shaking central Oklahoma since late 2011. The Oklahoma Emergency Management Agency said three earthquakes in the Prague area with magnitudes of 5.0 and higher had destroyed six houses and damaged 172 others from November 5 to 8 of last year.
Attorneys for New Dominion and Spess argued in court that the Oklahoma Corporation Commission, not the court system, was the proper venue for damage claims, because the commission has sole authority over oil and gas operations, but the state's Supreme Court justices disagreed.
READ MORE: Oklahoma earthquake spike likely linked to fracking boom
"Allowing district courts to have jurisdiction in these types of private matters does not exercise inappropriate 'oversight and control' over the (Corporation Commission)," says the opinion, written by Justice James Winchester. "Rather, it conforms to the long-held rule that district courts have exclusive jurisdiction over private tort actions when regulated oil and gas operations are at issue."
The court's decision also gives the go ahead to another lawsuit filed against the same two energy companies over property damage, this one filed by Jennifer L. Cooper, also of Prague. Cooper claims her home sustained more than $100,000 in damage from three Prague earthquakes.
Poynter is also representing Cooper and is seeking class-action status for another suit covering nine counties in the state, which, if granted, could lead to damage awards potentially worth tens of millions of dollars. The suit states that the class would consist of people in those counties who have owned homes or business properties since November 5, 2011.
The US Geological Survey found that central Oklahoma experienced one to three 3.0 magnitude earthquakes per year from 1975 to 2008, The Nation reported. That number jumped to an average of 40 a year from 2009 to 2013.
One 2011 study, published in the journal Geology, linked liquid infusion with earthquakes in the state, including the largest tremor ever recorded in Oklahoma. The state has more than 4,400 disposal wells, StateImpact, NPR reported.
You can share this story on social media: