'Mom and pop shop': Clinton's private emails housed on server in a bathroom closet - report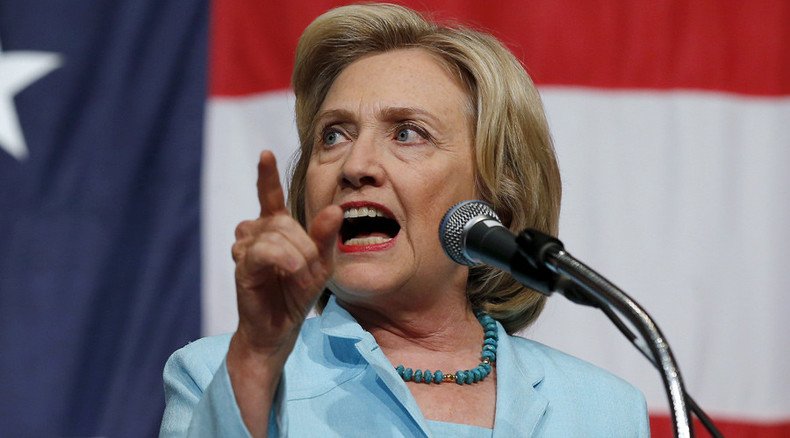 A small IT management firm employed by presidential candidate Hillary Clinton kept its servers containing her private emails in a bathroom closet of its loft-apartment office, according to a new report, in another absurd twist to the Democrat's 2016 run.
Platte River Networks, based in Denver, Colorado, was hired in mid-2013 by then-US Secretary of State Hillary Clinton to maintain her old email server, according to the company's lawyer.
Until this summer, Platte River Networks' office was a loft apartment in downtown Denver, and the servers were stored in a bathroom closet, former employees told the Daily Mail.
The company recently told ABC News it is "highly likely" a full backup copy of the server was made, meaning emails deleted by Clinton could still exist.
Clinton handed the servers to federal investigators last week. Experts believe more than 60,000 emails deleted by Clinton could be recoverable.
READ MORE: Headache for Hillary as classified emails draw FBI probe
Clinton, presumed the frontrunner for the Democratic presidential nomination in 2016, tasked Platte River Networks with protecting her personal email account long before any scrutiny surfaced over Clinton's handling of classified information on private servers.
Everything else about Clinton's term as Sec. State belongs in the toilet, so why not her unsecured email server.

— Stephen Miller (@redsteeze) August 18, 2015
One former employee described Platte River Networks as a "mom and pop shop" that seemed unlikely to be a go-to cybersecurity firm for a top government official to house state secrets. Few employees knew that Clinton was a client, the Daily Mail reported.
"At the time I worked for them they wouldn't have been equipped to work for Hilary Clinton because I don't think they had the resources, they were based out of a loft, so [it was] not very high security, we didn't even have an alarm," said Tera Dadiotis, a customer relations consultant between 2007 and 2010.
"I don't know how they run their operation now, but we literally had our server racks in the bathroom. I mean knowing how small Platte River Networks... I don't see how that would be secure [enough for Clinton]."
Platte River Networks moved into a larger workspace earlier this year.
Last week, Intelligence Community Inspector General Charles McCullough III told Congress that at least five emails from Clinton's private server contained classified information. The messages, dating from 2006 and 2008, contained signal intercepts and surveillance photos from Keyhole satellites operated by the CIA and the Pentagon. Two of the emails were labeled "top secret," according to Senate Judiciary Committee chair Chuck Grassley.
Clinton has said nothing in the content of the emails was classified at the time that she received them. According to court documents more than 300 emails have been flagged for "further inspection."
How did Platte River Networks, a small but reputable IT management company in Denver, receive such a prized contract? Ex-employees said David DeCamillis, the company's vice-president of sales and marketing, was active in Democratic Party circles and may have pursued her business.
Platte River co-founder Tom Welch said DeCamillis hoped to rent his home to vice president candidate Joe Biden during the 2008 Democratic Convention in Denver, according to Daily Mail. But Biden didn't take the deal, said Welch, who sold his third of the company in 2010.
READ MORE: Hillary Clinton pitches $350bn plan to subsidize college
"I'm not sure how that all happened, all I know he was saying he had the opportunity to make quite a bit of money doing it,"Welch said.
Since Clinton's server did not encrypt emails, critics have also raised concerns over the possibility that hackers may have obtained classified information from her official correspondence. The Clinton campaign maintains there had been no breaches in security.
Welch said the company's servers were secure when he was involved.
"Our internal network was extremely secure. At the time Inca St was a relatively obscure location, second floor office. The technology we had in place was pretty good. The security we had in place at the office was really good to protect our well-being."
He added that "what changed after I left the company I have no idea, I really could not comment on that. I don't know."
New polls coming out of New Hampshire and other early primary states suggest Clinton would lose not just to her primary rival for the party nomination, Vermont Senator Bernie Sanders, but also to some Republican contenders. Her favorability and trustworthiness ratings continue to be low.
A poll by Monmouth University, released before the server handover, showed that 52 percent of respondents thought the emails should be "subject to a criminal investigation for the potential release of classified material."
You can share this story on social media: