Route 29 Batman, hero of viral video, killed in car crash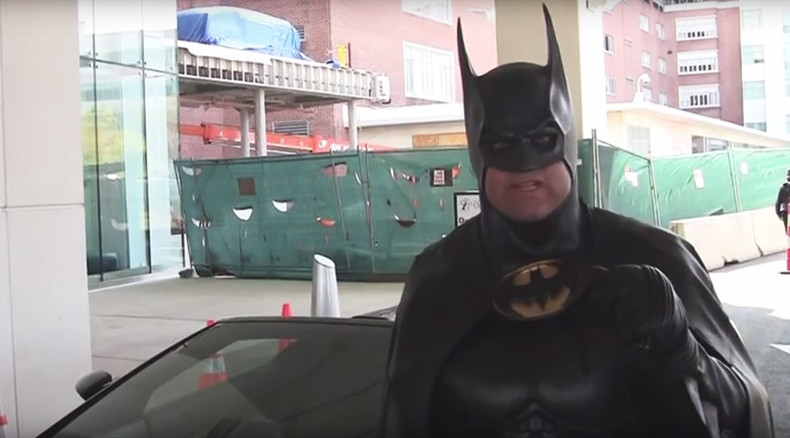 A man who drove a Batmobile and often dressed as Batman to visit sick children was struck and killed by a car along an interstate in western Maryland after his custom-made, black Lamborghini had engine trouble.
Lenny B. Robinson, 51, became famous in 2012 when he was stopped by police in Silver Spring, Maryland for having a Batman logo instead of a license plate on his sports car. Dashcam video of the encounter with the so-called "Route 29 Batman" quickly went viral.
Robinson was returning home Sunday evening from a car show in West Virginia when his Lamborghini had engine trouble, the Washington Post reported. Robinson then stopped the car "partially in the fast lane," state police said in a news release.
Around 10:30 p.m., he was checking the engine when his car was struck by a Toyota Camry, causing the Lamborghini to then hit him.
Robinson was pronounced dead at the scene.
The crash is still under investigation, authorities said. No charges have been filed. The driver of the car escaped without injury, but would not comment to the Post about the incident.
READ MORE: Real-life superhero: 'Iron Man' presents kid with new bionic arm

Shortly before the crash, Robinson had stopped at a gas station, where he met a family with children who admired his car. Robinson gave the children superhero items before leaving, the Post reported.
Robinson had made a living with a lucrative cleaning business, which allowed him to buy the Lamborghini. Dressed as Batman, he was frequent visitor to hospitals in Maryland and Washington, DC. He lived outside of Baltimore.
"I'm just doing it for the kids," he said during one visit to Children's National Medical Center in Washington, where he offered kids books, bracelets and other toys, the Post reported.
Robinson paid $5,000 for the custom-made batsuit, which weighed about 35 pounds, according to an ABC News report.

"When I put the suit on and I quote unquote become Batman, I think I am Batman," Robinson said.