Real-life superhero: 'Iron Man' presents kid with new bionic arm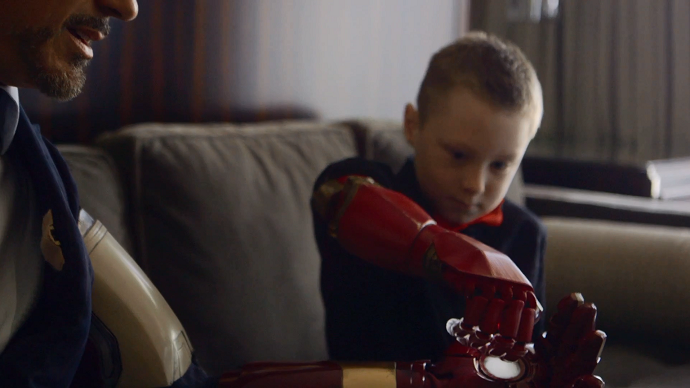 Born with a partially developed right arm, seven-year-old Alex knew he'd be getting a robotic helper soon. What he didn't know was that it would be fit for a superhero and presented by none other than Tony Stark himself.
Albert Manero, an engineer at the University of Central Florida who creates 3D-printed bionic arms for children, teamed up with Microsoft and 'Iron Man' actor Robert Downey Jr. to make the presentation of Alex's new arm very special.

The best part? Downey stayed in character the entire time, as Iron Man's alter ego Tony Stark.
"Had the absolute privilege of presenting a brand spanking new 3D-printed bionic Iron Man arm to Alex, the most dapper 7-year-old I've ever met," Downey wrote on his Facebook page.
The fist bump of the century! #IronMan and #IronBoy unite! #3Dhopehttp://t.co/EKpCoWvd7Rpic.twitter.com/pgj8PRWzRT

— Limbitless Solutions (@Limbitless3D) March 12, 2015
In an effort to make Alex feel a bit more relaxed (he looks rather starstruck in the video), the actor offered to try on his own robotic arm at the same time – and gave the seven-year-old a friendly fist bump. Downey even joked that the arm he "designed" has glitches, but said he keeps working on it, just like Albert Manero.

"He keeps working and working until he gets it right," Alex replied, referring to Manero's efforts.
.@RobertDowneyJr presents a bionic #IronMan arm through @msonenote, #CollectiveProject! Watch: http://t.co/FBAJkBRAXipic.twitter.com/mVvk7wz11e

— Marvel Entertainment (@Marvel) March 12, 2015
The fully operational, custom-fitted bionic limb is the product of Limbitless Solutions, Manero's volunteer non-profit.
Can't resist more pics from the #CollectiveProject. Special thx to Albert Manero, @MSOneNote, & @Marvel. #Limbitlesspic.twitter.com/SvSDwMNz20

— Robert Downey Jr (@RobertDowneyJr) March 12, 2015
"My parents always encouraged me to use my education to help others and to dream big dreams," Manero recently told Microsoft's Collective Project. "Now I want to inspire others to help engineer hope for the world."
Nice work Tony Stark! http://t.co/xVFnRZQk9F@Marvel

— chris pratt (@prattprattpratt) March 12, 2015