ISIS leader reportedly raped American hostage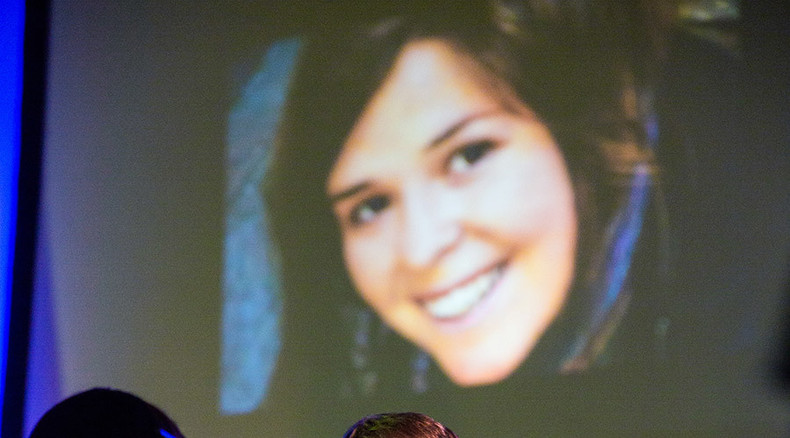 The leader of the Islamic State extremist group, Abu Bakr al-Baghdadi, raped an American hostage multiple times before she died earlier this year, according to a new report by ABC News.
Citing unnamed US counter-terrorism officials, ABC News stated that, during the time of her imprisonment, American humanitarian worker Kayla Mueller, aged 26, was "delivered" by Baghdadi to the house of Abu Sayyaf, a high-level Tunisian commander who directed oil and gas operations for the terrorist organization.
American officials first thought Mueller had been forced to marry Sayyaf, but after a US raid in Syria left Sayyaf dead in May, officials learned that Baghdadi had "repeatedly sexually assaulted" the aid worker during regular visits, ABC reported.
This information comes from multiple sources, including two Yazidi teenagers who were also held captive as sex slaves, as well as Sayyaf's wife, Umm, who was interrogated after the raid.
Mueller's parents, Carl and Marsha, also confirmed to ABC that the government has told them Baghdadi raped their daughter, who was from Prescott, Arizona.
"We were told Kayla was tortured, that she was the property of al-Baghdadi. We were told that in June by the government," the parents said.
Kayla Mueller was held by the Islamic State (IS, also known as ISIS/ISIL) for about a year and a half before she died. However, the cause of her death is contested.
READ MORE: Islamic State sex slave price list authentic, $165 for a child - UN
The terror group said in February that Mueller was killed in an airstrike conducted by Jordan. US officials denied this, but have not offered an alternative explanation.
According to ABC, the US was trying to pinpoint Sayyaf's location in January in order to capture him and rescue Mueller. A few days after President Obama said the US was working to identify her location, IS claimed she was dead, with American officials confirming the news shortly afterwards.
In May, Sayyaf's home was raided and he was killed during the struggle.
News of Mueller's rape comes just one day after the New York Times published a story exploring how IS has moved to codify the practice of rape. According to the report, which involved testimony from 21 women and girls who managed to escape from IS, the group has made it an acceptable part of its theology to rape women who are not Muslim.
With more than 3,100 Yazidis still captive, IS has created an elaborate sex slavery system featuring contracts and courts. Permission for rape has also been used to entice others to join the group, the Times reported.
In one example, a 12-year-old recounted how an IS militant prayed before and after raping her, explaining that the sexual assault was condoned by the Koran.
"I kept telling him it hurts — please stop," the girl, who went unnamed, told the Times. "He told me that according to Islam he is allowed to rape an unbeliever. He said that by raping me, he is drawing closer to God."