Islamic State sex slave price list authentic, $165 for a child - UN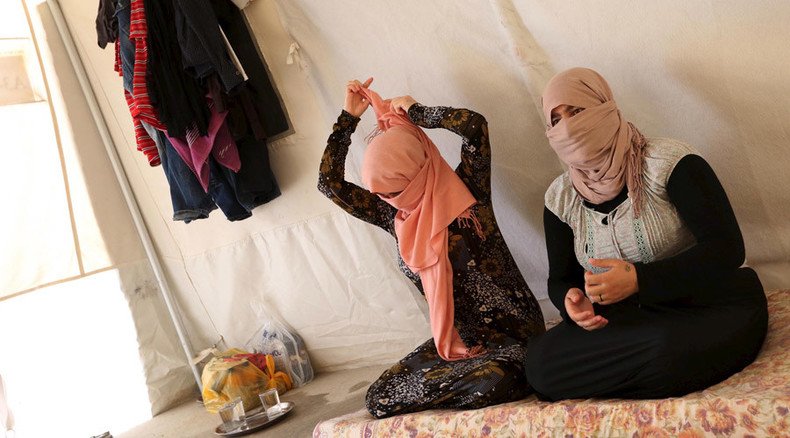 After circulating for almost a year, the UN has finally confirmed the authenticity of the Islamic State Sex Price list being offered to their fighters and other men trying to purchase sex slaves as young as one for $165.
Originally published online in November, the UN got hold of the actual hard copy in April, but was reluctant to confirm its authenticity. Now Zainab Bangura, the UN's Special Representative of the Secretary-General for Sexual Violence in Conflict, said the sex menu choices are real.
"The girls get peddled like barrels of petrol," Bangura told Bloomberg. "One girl can be sold and bought by five or six different men. Sometimes these fighters sell the girls back to their families for thousands of dollars of ransom."
READ MORE: ISIS releases horrifying sex slave pamphlet, justifies child rape
The price tariff is simple – the older they are the cheaper they are. All prices are quoted in Iraqi Dinars but US dollar equivalent shows that radical fighters can get children aged 1 to 9 for about $165, prices for adolescent girls are $124 and it's less for women over 20. Women over 40 cost as little as $41.
Purchasing and bidding is based on hierarchy and how much you can afford. Islamic State (IS, formerly ISIS/ISIL) militia commanders are offered the first choice of their victims. Then wealthy foreign civilian perverts from the region are permitted to offer their bids that could fetch thousands of dollars, Bangura said. The remainder is offered to the fighters at prices prescribed by the Sex Slave list.
Breaking the sex trade in IS-controlled territory is almost impossible, Bangura believes.
"They have a machinery, they have a program," she said. "They have a manual on how you treat these women. They have a marriage bureau which organizes all of these 'marriages' and the sale of women. They have a price list."
"It's not an ordinary rebel group," she said. "When you dismiss them as such, then you are using the tools you are used to. This is different. They have the combination of a conventional military and a well-run organized state."
READ MORE: Women and girls recall 'systematic rape' by ISIS militants – HRW
Thousands of Iraqi women have already been forced into sex slavery, with as many as 3,000 women and girls having been taken captive from the Yazidi tribe in Iraq over the course of the militants' offensive across the region. IS also managed to capture and enslave other minorities in the territory they control. At the end of last year, Islamic State released a pamphlet on rules about how female slaves, women and children should be treated by its fighters.
The jihadists argue that capturing women because they are unbelievers in Islam is justified. According to the pamphlet, IS members are permitted to have sex with the women, and is permitted as soon as a woman is captured if she is a virgin. If she is not, the manual reads, "her uterus must be purified" before intercourse.
The pamphlet also says that a female slave can have a "disciplinary beating," with only her face left untouched. However IS forbids its fighters to beat the slaves for the purpose of achieving gratification or for torture.
You can share this story on social media: