Women and girls recall 'systematic rape' by ISIS militants – HRW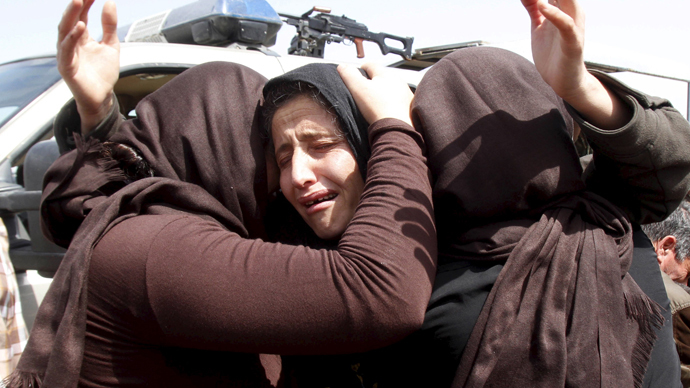 Twenty Yazidi women and girls, including one as young as 12, who escaped from ISIS captivity, had been subjected to "systematic rape and other sexual violence" at the hands of the jihadists in Iraq. Their accounts have been revealed in a new report.
The shocking report was compiled by Human Rights Watch who interviewed the women in the town of Dohuk, some 80km north of Mosul, between January and February 2015.
Half of them, including two 12-year-old girls, said they had been raped by several ISIS fighters – some multiple times.
Nearly all of them also said that they had been forced into marriage, had been sold or given as "gifts." The women and girls also witnessed other captives being abused.
"ISIS forces have committed organized rape, sexual assault, and other horrific crimes against Yazidi women and girls,"said the director of women's rights at Human Rights Watch, Liesl Gerntholtz.
These acts are war crimes and could be classified as crimes against humanity, according to HRW.
"Those fortunate enough to have escaped need to be treated for the unimaginable trauma they endured."
Many of the abducted women remain separated from relatives, who were either killed by ISIS or remain in ISIS captivity. Several said that during their captivity they had attempted or witnessed suicide attempts to avoid rape, forced marriage, or forced religious conversion.
READ MORE: ISIS releases horrifying sex slave pamphlet, justifies child rape
In October 2014, ISIS acknowledged in its publication Dabiq that Yazidi women and girls had been given to its fighters as "spoils of war."
The group attempted to justify sexual violence claiming that Islam permits sex with non-Muslim "slaves," including girls, as well as beating and selling them.
Local medical workers, service providers, Kurdish officials, community leaders, and activists confirmed the accounts of these women. One doctor treating female survivors in Dohuk told HRW that of the 105 women and girls she had examined, 70 appeared to have been raped in ISIS captivity.
"Yazidi women and girls who escaped ISIS still face enormous challenges and continuing trauma from their experience," Gerntholtz said. "They need urgent help and support to recover their health and move on with their lives."
READ MORE: 'Horrors of sexual violence': Yazidi women forced into slavery, commit suicide, Amnesty says
In March, Kurdish Yazidi parliamentarian Vian Dakhil warned the United Nations that Iraq's government is still failing to rescue kidnapped sex slaves from Islamic State (ISIS) fighters and has called for the creation of a safe-zone in northern Iraq for protection in the future.
The precise number of Yazidis still captive is unknown because of continuing fighting in Iraq and Syria and because significant numbers of Yazidis fled to areas across Iraq and neighboring countries when ISIS attacked. 3,000 people, mainly Yazidis, allegedly remain in ISIS captivity according to a March report by the Office of the United Nations High Commissioner for Human Rights. But the number could be higher.
You can share this story on social media: