Mist-ic showerhead and 6 other ways California copes with drought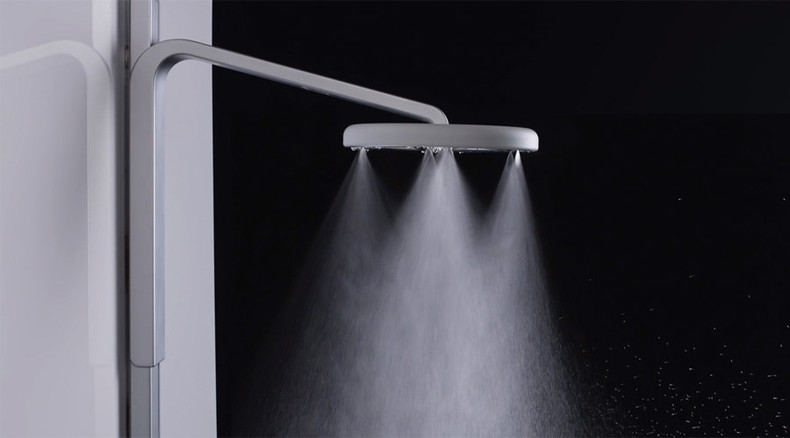 A revolutionary showerhead that uses 70 percent less water has already raised $1.3 million on Kickstarter. Record drought affecting the US West Coast has inspired some intriguing solutions to the water shortage.
1. The Nebia showerhead
The Nebia system, backed by the likes of Apple CEO Tim Cook, has raised more than fifteen times the $100,000 it set out to collect via a campaign on Kickstarter.
"Nebia atomizes water into millions of tiny droplets with 10 times more surface area than your regular shower," the California-based company says. "With Nebia, more water comes into contact with your body, leaving your skin clean and hydrated all while using less water than a typical household showerhead."
In the fourth year of a record drought, California and other areas along the US West Coast are seeking new ways, both basic and advanced, to save the world's most valuable resource.
2. Toilet to tap
Across California, water managers and environmentalists in particular are pushing systems that convert sewage effluent to heavily-treated, purified drinking water. Proponents of potable water reuse say that the system could recycle the hundreds of billions of gallons of treated sewage, currently directed into the Pacific Ocean, into drinking water.
In Orange County, a treatment plant built in 2008 is expanding water production from 70 million to 100 million gallons per day, enough for 850,000 people per year, according to Orange County Water District general manager Mike Markus. That expansion will cost $140 million, much cheaper than importing water from northern California or desalination of ocean water, Markus said.
3. Tapping the ocean
Desalination removes not just salt but all mineral, biological, and organic chemical compounds from non-freshwater sources. San Diego County, the southernmost area of California that imports about 90 percent of its water, is tapping into the Pacific Ocean through what is known as the Carlsbad Desalination Project.
To be completed in late 2015, the Carlsbad facility will be owned and operated by a private company. The Encina Power Station is expected to provide up to 50 million gallons of safe drinking water per day. According to the project's website, that amount will "offset some of the need for imported water and would provide as much as 10% of the region's drinking water."
4. Moisture farming
Southern California companies are seeking to tap underground aquifers, such as in the Mojave Desert's Cadiz Valley in San Bernardino County, to lift water runoff from surrounding mountain ranges.
In the Cadiz, water from snowfalls thousands of years ago makes way down from the Mojave mountains into an underground aquifer. It eventually rises up to a dry lake bed, where it then evaporates into the dry desert air, according to the OC Register. Before that water evaporates, engineers want to pump it out using a well, then send it through a pipeline to the California Aqueduct.
5. 'Gray water' recycling
California residents are increasingly turning to water recycling systems that allow for reuse of so-called "gray water" from bathroom sinks, bathtubs, showers and washing machines. The state has in recent years modified its plumbing codes and laws on the use of gray water, or non-potable runoff from household water sources that do not include pathogenic "black water" from toilets, which must be sent to wastewater treatment plants.
Californians are now allowed to install safe gray-water systems without a permit. The systems can use untreated water from bathroom sinks, washing machines, and showers for irrigation, but only if the water runs underground beneath soil or mulch. The untreated water must not come into direct contact with people or food. For example, untreated gray water could be used on tomato plants, but not on root vegetables.
6. Drip irrigation
Agriculture in California demands "roughly 34 million acre-feet of water," according to the state, to produce the vast majority of many common fruits and vegetables consumed in the United States. In 2013, the state said its share of total US agricultural exports was 14.7 percent.
California farmers have long employed innovative irrigation methods that conserve water, and the drought has only made those practices more popular. Drip irrigation, for instance, delivers water directly to a plant's roots, in turn reducing evaporation and waste from spray systems. Some believe, though, that drip irrigation can take away from water the seeps into underground aquifers, thereby possibly causing the farms to use even more of the resource than they save.
7. #DroughtShaming
Don't forget the power of social media. Some have turned to publicly shaming those that are clearly using their wealth or basic nerve to waste water resources amid drought. Actor and activist Sean Penn was slammed on Twitter in March for having a lush yard and large swimming pool outside his home.
Earlier this month, the state announced a new website that allows for the public to anonymously report others who they believe are wasting water.
In April, California Governor Jerry Brown ordered a 25 percent cut in urban water usage, citing ongoing drought conditions across the state.