Colorado may require warning labels for marijuana edibles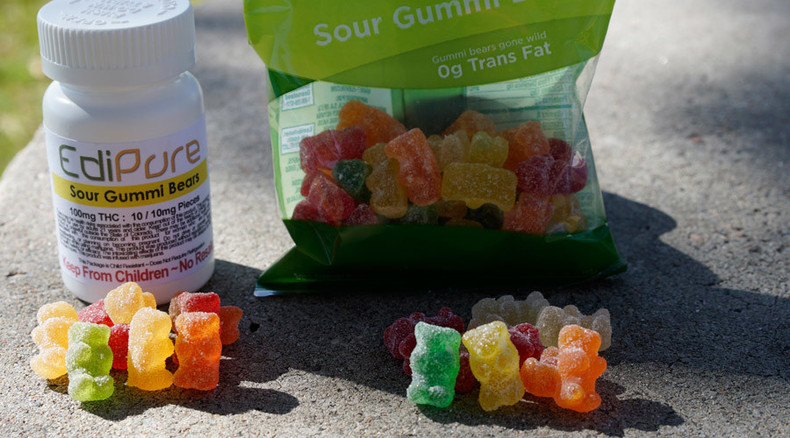 In an effort to make pot-infused products more distinguishable for consumers, edible marijuana products in Colorado may soon come with octagon-shaped red warning labels, according to a draft of new rules released Wednesday by state marijuana regulators.
Multiple instances of people unwittingly consuming marijuana edibles have been reported, including one case where a man ended up in the hospital at the 2014 Denver County Fair.
The prospect of children accidentally consuming pot products is especially concerning to many, and state regulators are also looking into banning the word "candy" on cannabis-infused sweets – even ones that are otherwise usual chocolate or gummies.
READ MORE: Rate of small children exposed to marijuana up 147.5% – study
The stop sign-shaped label would have the letters "THC" printed on it, referring to the psychoactive ingredient in marijuana. A marijuana leaf had originally been proposed for the label, but parents complained that this would attract kids rather than warn them about the contents of the product.
"Very young children explore their environments by putting items in their mouths, and foods such as brownies and cookies are attractive," said Henry Spiller, a co-author of a study on child exposure to marijuana and director of the Central Ohio Poison Center at Nationwide Children's Hospital, back in June.
These new rules still have to face a final hearing before they can be implemented.
Reports of accidental consumption of marijuana products led to a law that passed in 2014 requiring edible marijuana to have a distinct look outside of packaging. The Colorado Marijuana Enforcement Division has until January to implement the law.
READ MORE: Marijuana cookies blamed for suspected suicide in Colorado
The state has already banned pot manufacturers from using cartoon characters on packaging or mimicking common food packaging, but the agency has so far failed to come up with a working set of rules for the 2014 law requiring marijuana edibles to be "stamped, shaped, colored or otherwise marked" to show that it is not for consumption by children.
A November 2012 ballot initiative made Colorado the first state in the union to legalize marijuana. Other states joined with similar measures, with Washington State legalizing the drug in 2012, Alaska and Oregon in 2014, and Washington, DC in 2015.
You can share this story on social media: