California prison riot leaves 1 dead as LA envisions new jail for mentally ill
Published time: 13 Aug, 2015 03:53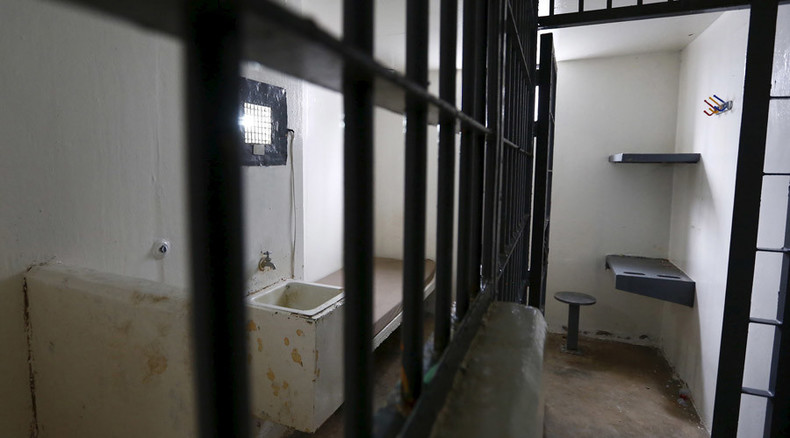 A 71-year-old inmate is dead as a result of a riot that broke out between inmates at Folsom Prison in California. The incident occurred as Los Angeles County supervisors voted to go ahead with a plan to build a new jail for mentally ill prisoners.
The riot occurred Wednesday afternoon around 1 pm and involved approximately 70 inmates, the Los Angeles Times reported. Although correctional officers suppressed the riot with pepper spray and warning shots from rifles, it was not before Hugo Pinell, 71, was killed.
A number of people were injured as well, including five hospitalized and treated for stab wounds. Other injured inmates were treated on-site. No officers were hurt during the riot.
It's unclear exactly why or how the riot started. Some inmates had weapons, NBC Bay Area reported, citing officials who said the deadly objects may have been made by the prisoners themselves.
Notably, Pinell was involved in an attempted prison break in 1971 that saw six people killed, including two officers and four prisoners. He had previously sentenced to serve life in prison for rape in 1965, and was given another life sentence in 1971 after killing a corrections officer.
According to KTVN, Pinell was specifically targeted by a prisoner before the riot broke out.
News of the incident comes as Los Angeles County moves to clear the way for a new jail that will focus on treating the mentally ill. The county board of supervisors voted to go ahead with the plan which will see at least 1,000 mentally ill inmates moved into treatment programs. A budget of $10 million a year has been allocated to the project, the LA Times reported.
Speaking with RT, retired California police officer Diane Goldstein said the government needs to seriously address the question of how to deal with inmates with mental disorders.
"We need to start funding mental health programs," she said. "If you look at LA County Jail right now, [it's] having some devastating scandals surrounding their treatment of inmates – both intentionally inflicted harm by deputies that have been recently convicted, to things like how they treat the mentally ill."
One case in LA County this past June involved an inmate who was handcuffed to a chair for 32 hours and only given one glass of water during that time.
"That's barbaric. We wouldn't treat our animals like that," Goldstein said.
The new jail will feature nearly 3,900 beds and replace the Men's Central Jail facility that has been marred by violence to the point that there was a real risk of the inmates taking over, the LA Times said. Although it's up to eight years away from becoming a reality, LA County supervisor Sheila Kuehl said the plan is based on the idea that more mentally ill prisoners will be treated rather than left in cells.
"I see those two things moving forward in tandem," she said to the Times, referring to mental health treatments and the construction of the new jail. "I'm trying to find a way to change this system, but I am not fantasizing that it changes in a minute."
READ MORE: Florida prison guard whistleblower subjected to peer abuse and unemployment
Last year, a critical Justice Department investigation, prompted by 15 inmates killing themselves in LA County lockup, found that many of the problems in the prison system were systemic.
"Serious deficiencies in the mental health care delivery system remain and combine with inadequate supervision and deplorable environmental conditions to deprive prisoners of Constitutionally-required mental health care," the report read.
One exonerated death row inmate, Anthony Graves, told RT that what he experienced in prison was intentional.
"I've just seen a lot of inhumanity ... [the officers'] inhumanity was outrageous," he said.
"Everything that I've seen was designed to break a man's spirit. When they decide to target you then you're at their mercy," he added. "I've seen them do it just because they were bored. It doesn't matter who you are if they're bored and trying to make their time go by."