Two black women charged with blocking highway during Ferguson protests
Published time: 13 Aug, 2015 03:29
Edited time: 3 Aug, 2017 17:27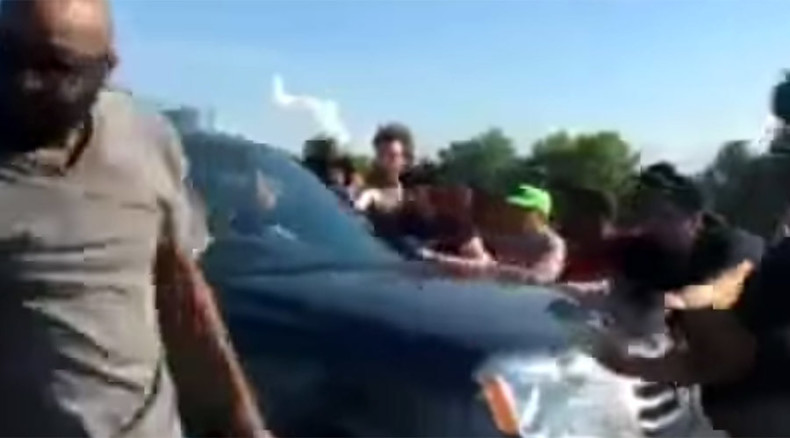 The St. Louis County prosecutor has charged two black women with trespassing and disturbing the peace after a rally shut down Interstate 70 during the Michael Brown anniversary protests.
The charges were brought against Brittany Ferrell, 26 and Alexis Templeton, 21, on Wednesday. Ferrell also faces property damage charges, while Templeton faces assault charges.
READ MORE: Quiet night in Ferguson could lead to lifting state of emergency - county officials
"The charges stem from the efforts of the defendants to block traffic on Interstate 70. Templeton is accused of punching the victim as our victim attempted to drive past the defendant. The victim suffered an eye injury as a result," St. Louis County prosecutor Bob McCulloch said in a statement.
"Ferrell kicked the victim's car as she passed causing nearly $5,000 in damage."
Several dozen protesters blocked I-70 in both directions during rush hour on Monday and placed yellow boxes on the ground with "Ferguson is everywhere" written on them.
Traffic was brought to a standstill for 20 minutes when demonstrators formed a line and locked arms across the lanes.
Video captured by SkyFox shows a grey SUV push its way through the line of protesters before speeding off without causing any apparent injuries. Ferrell and Templeton are accused of attacking the same SUV and its female driver.
READ MORE: 150 people arrested over 2 days in Ferguson, state of emergency still in effect
The Missouri State Highway Patrol broke up the roadblock at around 5:50 p.m. Authorities followed some of the protesters back to their own vehicles and arrested them in a nearby parking lot. It is not known if Templeton and Ferrell were among the arrestees.
The video does seem to show someone banging on the car hood, as well as someone possibly reaching into the window of the car, though it is difficult to tell.
Templeton and Ferrell founded the Millennial Activists United group with another woman, Ashley Yates, after black teenager Michael Brown was shot and killed by a white police officer on August 9, 2014, according to the St. Louis American. The three became prominent faces and voices in the Ferguson movement.
READ MORE: Heavily-armed white men patrol Ferguson, 'ready to confront authorities to defend US Constitution'
During an interview with KTVI-TV on Tuesday, St. Louis County Police Department spokesman Brian Schellman said the driver was hit with a "sucker punch," and her SUV had sustained roughly $5,000 worth of damage.
Ferrell has been held in lieu of a $10,000 bond. Templeton was released on a summons.