Quiet night in Ferguson could lead to lifting state of emergency - county officials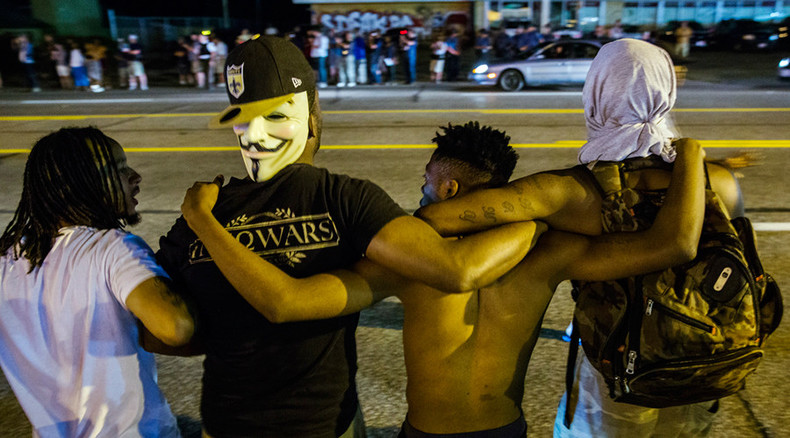 After a night of peaceful protests that saw neither arrests nor the deployment of tear gas in Ferguson, Missouri, St. Louis County officials are considering lifting the state of emergency imposed a day after the anniversary of Michael Brown's death.
County Executive Steve Stenger said that the state of emergency that has been in place since unrest broke out on Monday could be lifted as early as Wednesday. The state of emergency allowed the St. Louis County Police Department to assume policing authority in Ferguson.
"I'm inclined not to have it last any longer than needed," he told the St. Louis Post-Dispatch.
Protests began Tuesday evening with over 100 people gathering along West Florissant Avenue, the epicenter of protests in the weeks and months after Brown was shot and killed by then-Ferguson Police Officer Darren Wilson last August. The gathering was quiet, as people mingled along the side of the road.
Police officers, most of whom wore riot gear, outnumbered protesters. Larry Miller, who organized the protest group Ferguson Freedom Fighters, told AP that the latest round of protests is dying down without accomplishing much.
"We already know what needs to be happening is not happening," Miller said. "We're still bothered over the killing of Mike Brown because we still need police reform, criminal justice system reform."
By 11 p.m., several members of the Oath Keepers militia, formed of former and current law enforcement and military officers, had arrived in the area. While many members of the far-right-leaning group carried rifles earlier in the day, none appeared to be armed Tuesday night, according to AP. By midnight, much of the crowd had dispersed.
The only sign of tension came when a couple dozen people walked into the road on West Florissant. But St. Louis County Police Chief Jon Belmar and other officers escorted them back to the shoulder after "negotiating" with them, USA Today reported.
St. Louis County Police spokesman Shawn McGuire said officers made no arrests during the protest, the first time no one was taken into custody in five days, Reuters reported. The tactical operations unit that was on standby was never activated, nor did law enforcement deploy tear gas or smoke canisters, police said.
Tensions had been high earlier in the week after police shot 18-year-old Tyrone Harris, who is black, on Sunday. On Tuesday, though, the anger appeared to dissipate after the St. Louis County PD released surveillance footage of a teen, whom they identified as Harris, holding a gun shortly before plainclothes officers reported he shot at them in their unmarked vehicle.