'Best day ever': Carolina kid cancer sufferer enjoys afternoon with NFL team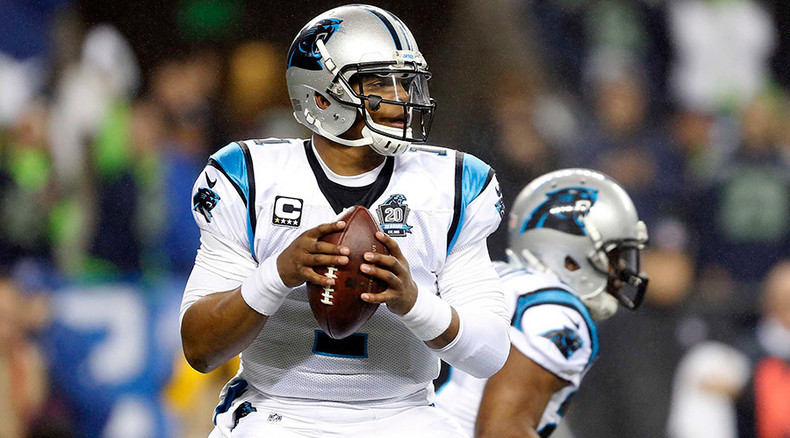 A terminally ill six-year-old boy had a dream come true as he the honorary coach of the NFL's Carolina Panthers for a day. Braylon Beam took charge of pre-season practice, became a darling of the media, gave the team's star quarterback some tips, and capped everything off with a dance.
Braylon was invited to attend Friday night's FanFest at the Bank of America stadium in Charlotte, North Carolina, by the Panther's General Manager Dave Gettleman, who signed him on a one-day contract.
One of the six-year-old's first jobs was to meet the head coach Ron Rivera, who was gushing in his praise for the elementary school kid, in what Braylon later described as "the best day ever."
"He's a real energetic young man who has got a real good sense for being around people. He showed that," head coach Ron Rivera told the Carolina Panthers website. "He's got a great fight about him and I hope our guys got the message and understand who this young man is."
He also gave the Panthers starting quarterback Cam Newton a few tips along the way. In his first play as coach, he asked Newton to "throw deep," to wide receiver Kelvin Benjamin, a move he had called in his pre-session press media conference.
He soon got the media on his side. When asked by a reporter what his favorite part of being a Panthers honorary coach was, Braylon replied – "meeting y'all," as cited by ESPN.
To cap everything off, in front of 55,000 fans who had come to the Bank of America stadium to watch the practice session, he performed a dance near the halfway line, with Benjamin, Newton and other stars of the organization.
There is a serious side to the story, as Braylon is currently undergoing treatment at Presbyterian Hospital in Charlotte for a tumor on his optic nerve, which was discovered in February and has subsequently caused him to lose his sight.
He is using dancing as a way to try and make his battles with chemotherapy treatments a little more bearable and he appeared on a US talk show in May to talk about his #JustKeepDancing campaign.
Whilst on the show, he said it was his dream to coach his favorite American football team one day, the Carolina Panthers. Thanks to the 'Make-A-Wish Foundation, his dream came true and he got the call from last season's NFC South champions to become a coach for the day.
To make Braylon the envy of his whole class, the franchise even visited school in Denver, North Carolina, where he was signed in front of all his friends and teachers by the organization.