Veterans could seek private health care with VA insurance - McCain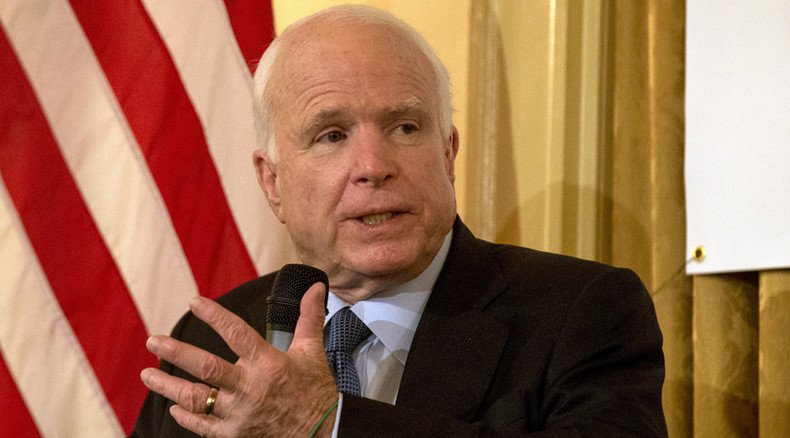 Sen. John McCain (R-Arizona) has introduced legislation that would offer all US military veterans the ability to seek private health care paid for by the Department of Veterans Affairs. Opponents worry the bill is a path to privatization of care.
McCain's bill, the Permanent VA Choice Card Act, would make permanent a three-year pilot program that was put into place in 2014 via another McCain-sponsored bill, the Veterans Access, Choice, Accountability and Transparency Act.

The program, called Choice Card, currently allows veterans who live more than 40 miles away from a Department of Veterans Affairs hospital or face unreasonable wait times to seek care at any private health facility using their VA insurance. The new legislation would offer the Choice Card option to all veterans.

McCain said the new bill is an attempt to recharge the program, which he claims was underutilized since its inception a year ago.

"Unfortunately, the VA has been slow and reluctant to implement this program since the law's enactment," McCain said in a statement. "It has failed to adequately distribute and educate qualified veterans about the Choice Card, restricted some veterans' eligibility to receive it, and tried to move critical funds away from the program altogether."
READ MORE: VA hospital threw patient files in trash, kept quiet about it

He added that the new bill would "remove uncertainty from within the VA, among providers, and especially among our veterans" while addressing the VA scandal that came to light in 2014. The department's hospitals were accused of manipulating wait lists, among other allegations, that resulted in the deaths of dozens of patients, according to multiple whistleblowers.

"More than a year after the VA scandal first came to light and a year since VA reform legislation was signed into law, wait times are still too long and veterans are still not getting the care they have earned and deserve," McCain said. "I urge my colleagues to support the Permanent VA Choice Card Act and make sure that no veteran is ever again denied the care they so desperately need."

Veteran advocacy groups expressed caution, especially regarding the bill's element of privatization.

Sherman Gillums Jr., the deputy executive director of Paralyzed Veterans of America, told Stars and Stripes that VA facilities are often the best option for veterans' care.

"We support the bill's intent," he said. "But if it requires VA to erode its infrastructure or rob Peter to pay Paul to fund permanent Choice Care, we won't support it."

Iraq and Afghanistan Veterans of America said existing law has already helped simplify veterans' care.

The conservative group Concerned Veterans for America, which has pushed for more access to private care for vets, said the bill does not go far enough and leaves too much control with the VA. The group has proposed what it calls the Veterans Independence Act, which would offer more privatization of veteran care.

"Simply making the (choice) program permanent will not overcome bureaucratic resistance, and thus meaningful, long-term reform, such as the Veterans Independence Act, is necessary," said Dan Caldwell, the group's legislative director. The group is allegedly funded by organizations supported by billionaire, right-wing brothers Charles and David Koch.

A VA spokeswoman said the department has yet to take a position "until we have had the opportunity to thoroughly review the bill."

VA Secretary Bob McDonald said this week that the department is "not in favor of privatizing" veterans' care.

Scandal surrounding the VA's waiting lists cropped up again last month, when a VA whistleblower alleged that about 34,000 vets lost their benefit eligibility when the department's hospitals intentionally sat on applications, some until they expired.
You can share this story on social media: