Veterangate: VA 'cooked the books' for over six years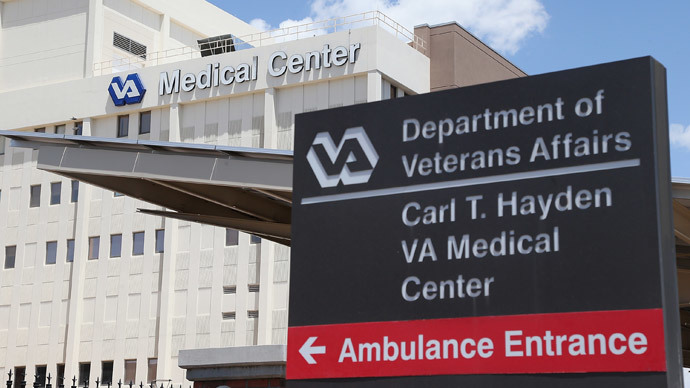 It took at least 23 deaths for America to wake up to what's been known since 2010: Department of Veterans Affairs hospitals have been cooking the books for six years to hide that they were delaying and denying care to the country's veterans.
The growing scandal began in early May, when a Veterans Affairs (VA) employee alleged that at least 40 patients died waiting for an appointment at a VA hospital in Phoenix, Ariz. US lawmakers then launched an investigation into the Department of Veterans Affairs after multiple whistleblowers came forward to say that veteran's hospitals systematically manipulate waiting lists, resulting in the deaths of dozens of patients. An agency report linked 23 of the reported 40 deaths in multiple states to delayed treatment.
Although the White House denied previous knowledge of the VA's manipulation, a Washington Times report based on a Freedom of Information Act request found that the administration was told about waiting list problems at medical facilities more than five years ago, just after President Barack Obama was elected to his first term. In the documents, VA officials cautioned the incoming Obama team that the waiting times being reported by veterans facilities around the country may not be accurate.
But the executive branch wasn't the only place to receive the warning. The VA Inspector General and veterans' advocates had been sounding the alarm on bogus documentation and systemic delays since the early days of the Iraq War, when soldiers returning from battlefield flooded the healthcare system designed for their use, AlterNet reported in 2010. That's when a leaked memo from VA Deputy Undersecretary for Health Operations and Management William Schoenhard reached the press.
"It has come to my attention that, in order to improve scores on assorted access measures, certain facilities have adopted use of inappropriate scheduling practices sometimes referred to as 'gaming strategies'," Schoenhard wrote in the April 26, 2010 memo.
The memo included an eight-page attachment that delved into 24 tricks that VA hospitals used. Schoenhard castigates the recipients for deceiving veterans about wait times to boost scores on performance evaluations.
"This is not patient centered care," he wrote.
"Workarounds have the potential to compromise the reliability of our data as well as the integrity and honesty of our work," Schoenhard wrote. "Workarounds may mask the symptoms of poor access and, although they may aid in meeting performance measures, they do not serve our veterans."
In 1995, the VA set a maximum 30-day wait-time goal for veterans' appointments, and required most of its facilities to meet that goal within three years, the Wall Street Journal reported. A government report from August 2001 warned that VA medical centers were having problems meeting the 30-day standard.
In 2007, the veterans groups, led by Veterans for Common Sense, sued the VA and several top-ranking officials, claiming the agency "is failing to provide adequate and timely benefits and medical care," the group said on its website.
"There's a crushing caseload that the VA can't keep up with," Gordon Erspamer, a lawyer who represented the plaintiffs pro bono, told the San Francisco Daily Journal at the time. "You could easily wait 15 years before you get any treatment."
A federal appeals judge later ruled against the class-action lawsuit.
By 2008, when an appointment within that 30-day timeframe wasn't available, some schedulers would:
— Make a fake appointment within the 30-day period but not tell the patient. The appointment would be canceled later and a new appointment would be made to meet a new 30-day target.
— Note on a paper log the actual distant date of an appointment, but not enter it into computer until within 30 days of the date.
— Give the patient an appointment at whatever date was next available, but log it in the computer as the date the veteran had asked for.
Schoenhard noted in his memo that listed ways of cooking the books were identified in a 2008 study, and that since then, "additional new or modified gaming strategies may have emerged, so do not consider this list a full description of all current possibilities of inappropriate scheduling practices that need to be addressed," the deputy undersecretary wrote. "These practices will not be tolerated."
But some employees may have seen the memo as a roadmap, rather than a warning. "I thought to myself, 'If you weren't gaming the system before, here's a compendium of how to do it'," Peter Henry, a now-retired, 42-year VA employee in South Dakota, told the Wall Street Journal. "It's like publishing a hack on the Internet."
Despite the documented difficulties VA facilities faced in meeting the 30-day appointment requirement and an increase in veterans returning from Afghanistan and Iraq, in 2011 Robert Petzel, then the undersecretary for health, decreased the wait-time requirement to 14 days for many types of appointments, the Wall Street Journal reported.
In April 2012, Nicholas Tolentino a former mental health administrator at the Manchester VA Medical Center in New Hampshire, testified before lawmakers about the workarounds used by the agency's facilities to meet their appointment goals, Military.com reported at the time. He also told the Senate committee that VA officials received bonuses for cooking the books.
"That's one of the reasons I left," Tolentino told Military.com in a 2013 telephone interview. "Not only because of the fraud. They were gaming the entire system and profiting off it. I left before I got a bonus. I didn't feel right taking [one]."
Tolentino's testimony led to scrutiny into performance bonus awards at the VA for 2011.
"If any [bonuses]… were given to people who were found to have reported false numbers about appointment wait times, we could not reveal that because those actions would be subjects of investigation and possible discipline," VA spokeswoman Josephine Schuda said in an email to Military.com in 2012.
The department reviewed the bonuses, and canceled 43 of the 78 bonuses awarded to senior executives the previous year. But Shuda argued that bonuses have their place. "VA does not want its employees to have fewer opportunities than other government employees – this would not serve veterans well," she said in her email. "We want our fair share of the best and brightest to serve veterans and we have to compete in tough labor markets for skilled personnel."
Sen. Patty Murray (D-Wash.) promised to keep the issue on the radar of the Senate Veterans' Affairs Committee. "This is not something we're going to hold a hearing on and then leave and go do something else… I don't want to continue to hear that anybody's gaming this system," she said at the 2012 hearing. And yet the workarounds continued.
In March 2013, a House Veterans' Affairs subcommittee held a hearing on patient wait times at the VA, based on a Government Accountability Office report that documented cases of VA facilities employing what Schoenhard had referred to as gaming strategies.
"Evidence has shown that many VA facilities, when faced with a backlog of thousands of outstanding or unresolved consultations, decided to administratively close out these requests," Rep. Mike Coffman (R-Colo.) said in his opening statement. "Some reasons given included that the request was years old, too much time had elapsed, or the veteran had died."
This April, the Center for Investigative Reporting found that the VA paid out more than $200 million in wrongful death payments to military families who needlessly lost their loved ones in the years since 9/11. Negligence, wrongfully denying mental health treatment, failure to disclose relevant health information to the public, and other serious infractions are among the issues that have cost veterans their lives.
The latest scandal on VA wait times and cooking the books broke after testimony during an April 9 congressional hearing claimed the Phoenix VA Health Care System created a secret waiting list to make wait times appear acceptable.
"It's not that people haven't brought this up before, it's just the word 'secret' lists blew it up in the media," Vietnam Veterans of America's Richard Weidman said in an interview with the Associated Press. "They weren't secret, they were handwritten" logs kept aside from computerized scheduling. "People should stop the hysteria and say what the root of this problem is."
Just two days before Petzel resigned as the VA's undersecretary for health, he admitted in a closed door meeting that the 14-day wait time may have been a mistake, the Wall Street Journal reported.
Garry Augustine, executive director of the Disabled American Veterans, and Stuart Hickey, executive director of AMVETS, met with Petzel on May 14. "I asked [Dr. Petzel] if they are unrealistic goals," Augustine said to the Journal. "He sat back and said, 'Maybe they are unrealistic'."
Hickey confirmed the exchange, adding that Petzel said, "We might have to reconsider, you might be right there."
Along with facilities' inability to meet the reduced wait-time goals, Weidman and other veteran service organizations say there are not enough medical personnel to meet demand (including a 17 percent jump in vets relying on the agency for health care since 2009) and the budget is too small to provide enough doctors, medical centers and services, AP reported.
Some 1,700 veterans waiting for care were "at risk of being lost or forgotten" at the Phoenix vets hospital alone, according to the Veterans Affairs watchdog. The group has called on Secretary Eric Shinseki to resign, joining a growing list of politicians who have also been vocal about the VA chief to step down, including Senator John McCain. Meanwhile, the ongoing investigation into the lapse of care has expanded from 26 to 42 centers.
Despite all the problems, independent reports have found that though access is a problem, VA care is equal to or better than that in the private sector.
You can share this story on social media: