Feds fight against Idaho law banning the homeless from sleeping in streets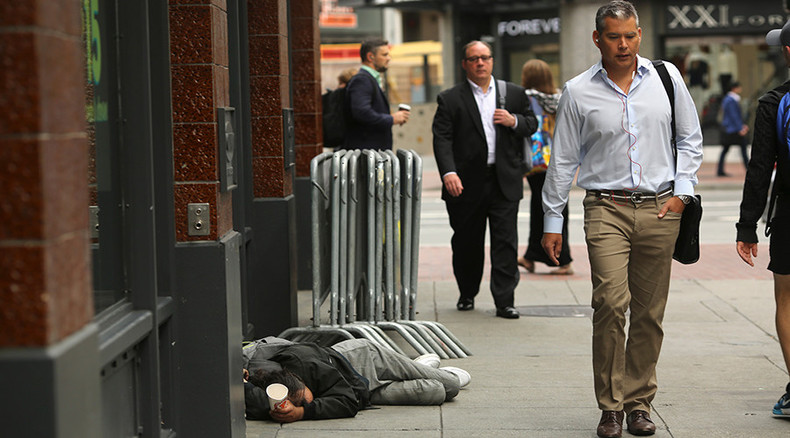 The Justice Department has joined a lawsuit filed by several homeless people in opposing a Boise, Idaho ordinance that bans sleeping in public places. The department says the rule unconstitutionally punishes people for being homeless.
On any given night, half a million people in the US are likely to be experiencing homelessness, the Justice Department said in their Thursday statement of interest in the federal case Bell v. City of Boise.
READ MORE: 'Endless & vicious cycle' of misdemeanor charges targeting America's poor – report
The department argued that the causes of homelessness are varied, from those affected by the economic downtown or foreclosure crisis, those suffering from mental health problems, victims of domestic violence or trafficking, and youth separated from their families.
"Many homeless individuals are unable to secure shelter space because city shelters are over capacity or inaccessible to people with disabilities," said Vanita Gupta, deputy attorney general and head of the Civil Rights Division, in a news release.
Gupta said prosecuting individuals who have no place to go violates their constitutional rights under the Eighth Amendment's "cruel and unusual punishment" clause.
Bell v. City of Boise is a 2009 case brought by homeless plaintiffs who were convicted under the ordinance.
READ MORE: Baltimore restaurant starts 'homeless week,' wants to feed 1,000

Since the lawsuit was filed, the city has amended its ordinance to prohibit police from enforcing the camping and sleeping rule when there is no available overnight shelter, city spokesman Mike Journee told the Idaho Statesman.
He said the premise of the Department of Justice's filing is "incorrect." He also disputed the accusation that shelters were over capacity, saying that is only the case during extreme weather events.
The Boise ordinance dispute is one of similar disputes playing out nationwide. A 2014 survey by the National Law Center on Homelessness and Poverty found 64 cities with laws like the one in Boise.
The nation's courts are divided on the constitutionality of anti-camping ordinances.
In 2007, a federal appeals court ruled that enforcement of a Los Angeles anti-camping ordinance may be unconstitutional on nights when adequate shelter space was not available. That decision was vacated after challengers of the law reached a settlement with the city, which agreed to build more shelter spaces.