IHOP customer rants about Nazis, Russians when she hears woman speak Spanish (VIDEO)
Published time: 7 Aug, 2015 02:40
Edited time: 7 Aug, 2015 04:26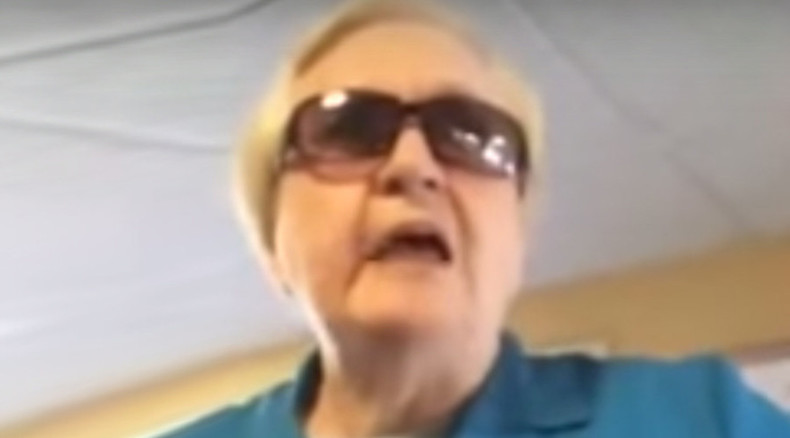 A middle-aged white woman at an IHOP restaurant in Southern California is making waves after she performed a racist rant against a Spanish-speaker, even involving the Nazis and Russians in the argument.
The incident took place last Friday at a Southern California IHOP restaurant, although the footage only began spreading across the internet this week. At the restaurant, the white woman, whose identity is unknown, witnessed Norma Vasquez speaking in Spanish and decided to start yelling at her about it.
Much of the yelling is hard to understand, but the white woman says numerous times sentiments such as, "We speak English in the United States."
Norma Vasquez's son, Carlos, tries to intervene by telling the woman she shouldn't talk to his mother that way, but the situation escalates into yelling. Norma Vasquez calls the other woman "stupid" several times.
"I speak English!" Vasquez says angrily. "Not good, But I speak English."
At one point, the woman told Vasquez to "go back to Spain," though Vasquez said she is not from there.
Eventually, the argument escalated even further.
"Do you want the Russians over here telling you what to do? Do you want the Nazis telling you what to do?" she asked.
Several times, the woman referred to freedom of speech rights in America. The younger Vasquez responded by saying that it means "we have the freedom to do what we want."
"We want English, we don't want the Nazis back," she said. "We don't want the fascists back. We don't want Castro back."
Before the video ends, Carlos Vasquez says, "You have to change your heart or you're going to die really soon."
Speaking with NBC 4, Norma, who cleans offices for a living, said she felt "awful, as though I was worthless" during the exchange.
As for Carlos, he said the IHOP customer's rant didn't upset him until he saw his mother getting emotional.
"Inside, I wasn't upset," he told the local outlet. "I got more upset when my mom started to cry. It wasn't fair for my mom to cry to a stranger just because my mom was speaking Spanish."