Thrilling body cam footage shows firefighters battling raging fire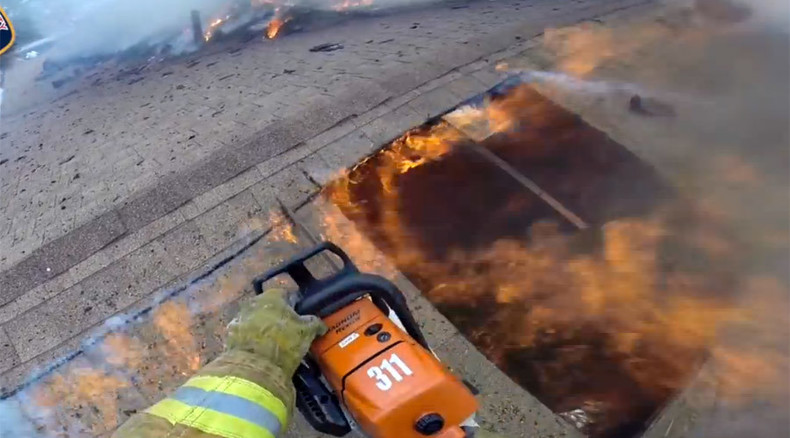 With 8,000 California firefighters tackling 18 wildfires across the state, a new video from the San Bernardino County Fire Department shows just what firefighters are up against when fighting a blaze on a roof.
The dramatic video depicts a single-story house on fire in Victorville, California. Fighters have to move quickly as an additional home, not seen in the video, is also catching fire.
During the video sequence, firefighters are seen working on the burning roof of the house, cutting square-shaped holes that allow flames and smoke to escape.
This method is called "venting the roof." There are two reasons for firefighters choosing this practice. When dangerous gases and dark smoke accumulate in a burning building, it is impossible for firefighters to see. When a hole is made, the building is "vented," and the smoke and gas escape because heat and smoke rise.
The practice also reduces the possibilities of backdraft – an explosion of fire caused by the rapid re-introduction of oxygen to an oxygen-depleted space – and flashover, a near-simultaneous ignition of most of the directly-exposed, combustible material in an enclosed area.
READ MORE: 'Jaw-dropping' California wildfire fueled by drought, winds
The other reason for venting is to see how far the fire has traveled. One of the fastest avenues through which fires spread is the attic. Firefighters may go ahead of the fire on a roof, cut holes to the attic and stop the fire from spreading to it.
In this case, firefighters did a search and confirmed no one was inside the house. One large dog was found and reunited with his owner.
The cause of the fire and its origin is being examined by San Bernardino County Fire investigators. The Red Cross arranged for temporary housing and clothing for three adults and four children who were displaced by the fire.
READ MORE: 18 raging wildfires force California Gov. to declare state of emergency
Since June, California has been beleaguered by wildfires. On Friday, Governor Jerry Brown declared a state of emergency.
"California's severe drought and extreme weather have turned much of the state into a tinderbox," Brown said in a statement. "Our courageous firefighters are on the front lines and we'll do everything we can to help them."
The state has adopted water rationing as it continues to struggle with the worst drought in over a century.