18 raging wildfires force California Gov. to declare state of emergency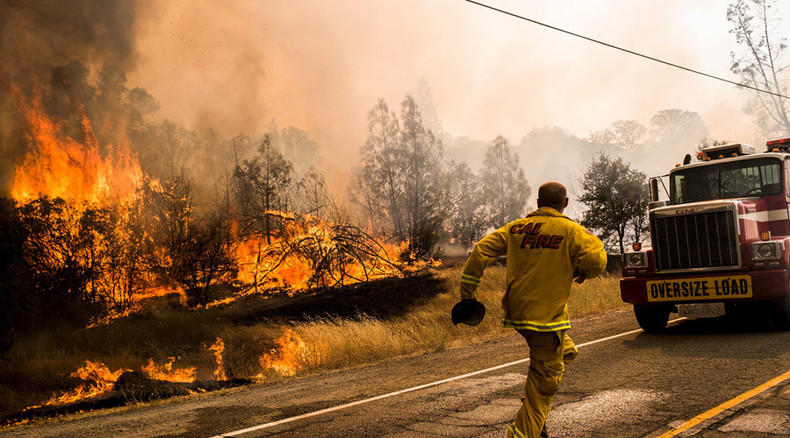 California Governor Jerry Brown has declared a statement of emergency as 18 large wildfires burn through more than a dozen counties.
"California's severe drought and extreme weather have turned much of the state into a tinderbox," said Governor Brown in a statement. "Our courageous firefighters are on the front lines and we'll do everything we can to help them."
Wildfires are not an uncommon occurrence in California but severe drought conditions and high temperatures have combined to create an especially dangerous situation. The drought has caused millions of trees to die, which has helped spread the fires throughout the state, according to Brown.
Air quality in the state is also starting to deteriorate as a result of the combination, which could potentially lead to public health emergencies, according to the governor's office.
The declaration of a state of emergency will allow for faster deployment of resources to the fire zones, assistance from other states, and help from the National Guard, if necessary, in disaster relief.
The Guard has already provided nine helicopters to the nearly 8,000 firefighters battling 18 wildfires around the state, according to the Los Angeles Times.
Officials are also worried about forecasts for thunderstorms over the weekend, which could spark more blazes.
The wildfires began in June in Butte, El Dorado, Humboldt, Napa, Nevada, Sacramento, San Bernardino, San Diego, Shasta, Solano, and Yolo counties, among others. They have already burned thousands of acres of land.
READ MORE: Congressman asks FAA to block drones from interfering with firefighters
As a result of the disaster, structures have been destroyed, and hundreds of homes have been threatened, prompting evacuations. The fires have also burned through major highways, setting cars alight and closing local roads as well.
READ MORE: Cars ablaze as 3,500-acre California brush fire swallows freeway, homes
In January, Governor Brown declared a state of emergency based on the extreme drought that has persisted in the state for four years. In April, he declared a mandatory 25-percent reduction in water use by cities and towns in the state.