Maryland boy first to get double hand transplant (VIDEO)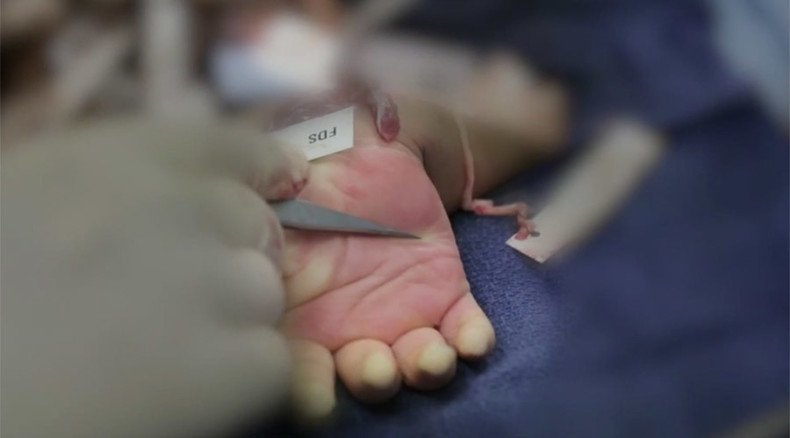 A Maryland boy is the first young person to receive a double hand transplant. The trailblazing surgery lasted nearly 11 hours and required a medical team of 40.
During the hand re-attachment operation, the medical team used steel plates and screws to fasten the old bones to the new, while a dozen surgeons were engaged in reconnecting eight-year-old Zion Harvey's arteries, veins, muscles, tendons and nerves.
READ MORE: World's 1st 'feeling' prosthetic leg unveiled in Austria
The groundbreaking operation took place at The Children's Hospital in Philadelphia. Surgeons said at a Tuesday press conference that the operation was performed earlier in the month, after a donor was found.
"The medical staff had to create tags with descriptions such as 'ulnar artery' and attach them to the various vessels, bones, nerves and tendons that needed to be connected," said Dr. Scott Levin, director of the hand transplant program at The Children's Hospital, to CNN.
Harvey demonstrated his still-delicate grip for reporters, and described waking up with new hands as "weird at first, but then good," according to the Associated Press.
READ MORE: ​Wi-Fi EYE: Scientists developing 3D-printed eyeballs with filters & camera
A video segment on Harvey includes footage from the operation in which a surgeon points to a bloodless transplanted hand attached to the little boy that suddenly turns pink as blood starts flowing through its arteries.
On the video, when the surgery was complete, Dr. Levin told Harvey's mother, Pattie Ray, "We have some good news for you. Your little guy has two hands."
Harvey contracted a life-threatening sepsis infection as a toddler, resulting in multiple organ failures which forced the amputation of his hands and feet. By the age of four, after two years of dialysis, he needed a kidney transplant, receiving the organ from his mother. Since then, he has used leg prosthetics and learned to use his forearms to write, eat and play video games. He has also begun attending school, according to the AP.
Harvey was a good candidate for the hand transplant because he was already on a regimen of anti-rejection drugs due to the kidney transplant, doctors said, according to the AP. He will have to continue taking the immune system-suppressing drugs for his entire life to assure that his body doesn't reject his new hands. Unfortunately, this means he will be at an increased risk of contracting infections and cancer.
Harvey will undergo "rigorous hand therapy several times per day" over the next few weeks before returning to his home in Maryland, according to the hospital.
READ MORE: First head transplant possible within two years, says Italian 'Frankensurgeon'
In the video, Dr. Levin stressed the operation wouldn't have been possible without a family, grieving from a fresh and crushing loss, which was willing to make the donation. The Gift of Life Donor Program, a regional organ procurement organization, found Harvey a pair of hands months after he was placed on a waiting list in April.
Dr. Levin said he hopes the groundbreaking surgery is just the beginning.
"I hope he's the first of literally hundreds or thousands of patients that are going to be afforded this surgery," he told CNN.
Several adults in the US have received double hand transplants in the past few years, but this is the first reattachment performed on a child.
You can share this story on social media: