NY cops brutally punch man, pin him to floor during arrest in Brooklyn (VIDEO)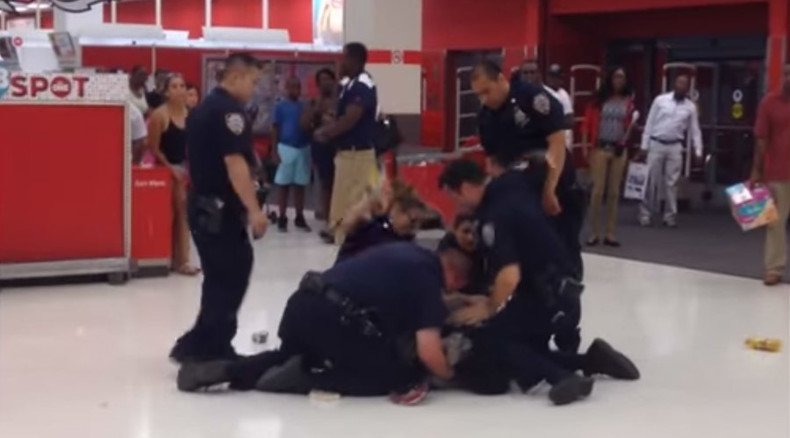 Several New York police officers have brutally beaten a man they were holding on the floor during his arrest in a Brooklyn store, a YouTube video shows. A crowd of customers who gathered at the scene were demanding that the officers stop.
The man identified by The Daily News as Alando Brissett, 25, reportedly got into an argument with an employee at the Target retail outlet in the Flatbush neighborhood of Brooklyn on Saturday night, when he demanded a receipt after returning bottles. Police were summoned when he refused to leave the store.
The video of the arrest shows four policemen, including a female officer, holding Brissett down on the floor and hitting him in the back several times. One officer then pinned the suspect's head to the floor with his knee.
"Stop f**king hitting him," a woman is heard yelling in the video and the crowd is seen to be gathering.
"One person, 50 police. It's wrong, that's not good," and "You can't hit him, don't hit him!" the customers are heard shouting.
READ MORE: NYPD officers punch, club a man over $3 'pizza theft' (VIDEO)
Later about 20 more officers arrived at the scene and Brissett was escorted to a police car.
"I was certainly shocked at the level of force that was used," Michael Rolland, 31, the customer who recorded the video, told NY Daily News. "I was concerned the force used was excessive."
READ MORE: Philadelphia cops caught beating, kicking black man as he screams for help (VIDEO)

Brissett's grandmother told the paper that her grandson had trouble remembering things and that's why he didn't have a job and needed extra money.
"He [Alando Brissett] is not a bad kid, he's not a rude kid," she said, "It hurts me. You cannot harm my grandson. He's not a criminal."
READ MORE: 'Out of control' McKinney police officer who drew gun on teens at pool party quits
According to NYPD spokesman, Brissett was charged with disobedience, trespassingand resisting arrest.
The video depicting officer brutality is being verified by police, NYPD spokesman said.
You can share this story on social media: