NYPD officers punch, club a man over $3 'pizza theft' (VIDEO)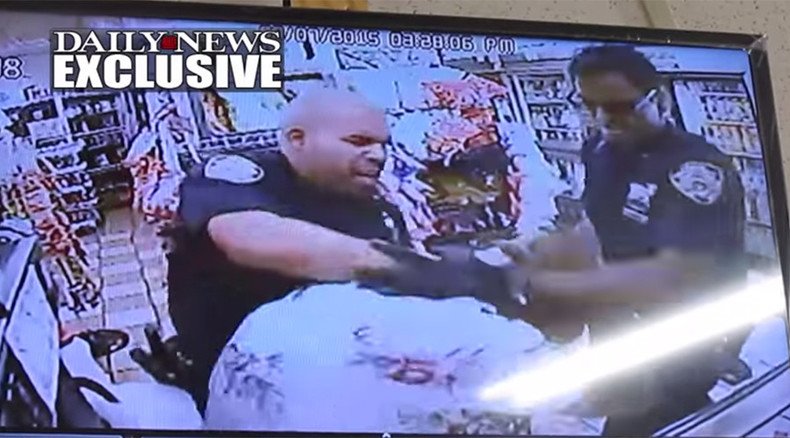 Surveillance video from a Brooklyn store shows New York police officers brutally beating a suspect who is holding his hands up and apparently trying to surrender. He was arrested on charges of stealing $3 worth of pizza from a nearby shop.
Obtained by the New York Daily News, the video from Raslin Grocery in Bedford-Stuyvesant shows one officer punching the man, identified as 24-year-old Thomas Jennings Another officer is hitting and prodding Jennings with a nightstick.
"I didn't ever know it was coming," Jennings, told the paper. He said he suffered a cut above his eye that required five stitches.
According to court documents, on July 7 officers Pearce Martinez and Lenny Lutchman were responding to a call from New York Fried Chicken on Saratoga Avenue, saying that Jennings and another man fled after not paying $3 for two slices of pizza.
Jennings says he was a dollar short and went outside to borrow some money. His friend, who was not identified, reportedly brandished a switchblade and said the men had no intention of paying for the food, before running away.
Officers tracked Jennings down to the nearby bodega, where the incident shown on the video took place. The video shows officer Martinez running up and punching Jennings. Lutchman then jumps on Jennings, hitting his back with a baton.
"It's horrendous what they did to him," Jennings' lawyer Amy Rameau, told the New York Daily News. "He had his hands up. He didn't pose a threat to anyone in that store. It was an absolute use of excessive force."
According to the criminal complaint obtained by Mother Jones, Jennings was arrested and accused of robbery, menacing, larceny, possession of stolen property, possession of a weapon, and resisting arrest. However, the district attorney's office chose not to press charges, and Jennings was released on July 13, after being held for nearly a week without bail.
The incident is now being investigated by the NYPD Internal Affairs Bureau, as well as the office of Brooklyn District Attorney Ken Thompson.
The Daily News described Jennings as an "aspiring rap artist," performing with a group called BeenFamily under the name "Sen'Tekk."
"He's an artist, he's a father, he's a son but unfortunately the police see him as an object, something to pound on," Rameau, his lawyer, told the paper.
This was apparently not the first time the police were rough with Jennings. He has an excessive force lawsuit pending in Brooklyn Federal Court, against officers from the 81st Precinct, over a domestic dispute call in April. The suit alleges the officers responding to a fight between Jennings and his estranged girlfriend, involving the custody over their 4-year-old son, fractured his eye socket. Police said Jennings had several prior arrests for domestic violence and violating a protective order with his ex-girlfriend.
You can share this story on social media: