​Philadelphia cops caught beating, kicking black man as he screams for help (VIDEO)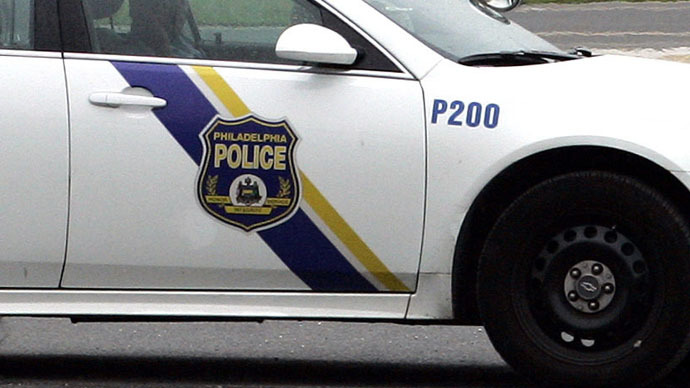 A video has emerged which shows a swarm of Philadelphia police officers repeatedly beating a man while he screams for his grandmother's help. The city's police department says that it has launched an internal investigation into the matter.
The nine-minute video shows Tyree Carroll, a 22-year-old African-American, being repeatedly punched, kicked, and possibly tased while lying on the ground during an arrest.
Although the incident occurred on April 4, the video – filmed by a woman from the window of her house – only emerged this week.
The beginning of the footage shows Carroll being beaten by four officers as he screams "Grandma!"
About a minute into the video, another police car arrives with more officers. One cop can be heard yelling: "You're getting the f***ing taser," while another shouts "Tase that motherf***er."
Carroll's grandmother, Nancy Carroll, told NBC News that it was too difficult for her to watch the video.
"I couldn't bear to look at it," she said. "I just shut my mind and looked away."
Carroll's attorney, Shaka Johnson, admitted that her client did have a criminal record, but stated that none of his previous run-ins with police had left him in need of medical attention.
READ MORE: Number of police departments using stun guns, Tasers increased by 10 times - report
"My office is still conducting an investigation regarding the details of what led to the initial police encounter. What happened next however is now hardly in dispute." Johnson said. "Tyree was beaten, punched, kicked, tased, and was absolutely humiliated in front of his community all while screaming for help on lookers and calling for his grandmother."
Carroll was found with 5.3 grams of crack cocaine in his possession.
Philadelphia police said in a Thursday statement that they had been made aware of the video on Wednesday, adding that the case has been referred to the Internal Affairs Bureau.
The department did claim, however, that Carroll had fought with the arresting officers and bit two of them. One cop was allegedly bitten on the forearm, while the other was bitten three times on the hand, thigh, and arm.
The police statement said the officers were taken to the hospital for "bleeding wounds," while Carroll was taken in for injuries that came from"intentionally striking his own head against the protective shield located in the police vehicle."
READ MORE: 4yo Ohio girl takes police bullet meant for dog
The department said it didn't appear that Carroll was tasered, but stated it would be investigating further.
Carroll's arrest took place on the same day as the shooting of Walter Scott, an unarmed black man killed by a police officer in South Carolina.
The video's release comes amid allegations of police brutality against African-Americans in the US, particularly following the deaths of Michael Brown, Freddie Gray, and Eric Garner.
Numerous protests have taken place nationwide under the slogan "Black Lives Matter."
You can share this story on social media: