Sandra Bland laid to rest after suspicious 'suicide by hanging' in custody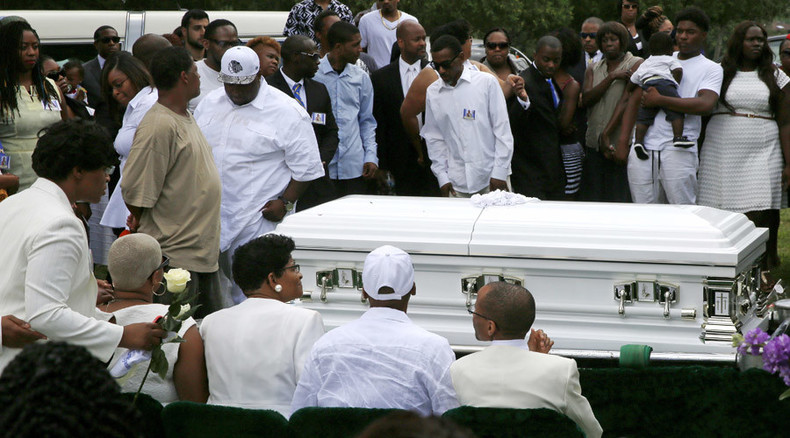 Hundreds of family members and friends, as well as politicians lined up for over an hour to honor the life of Sandra Bland, a black activist who was found hanged in a Texas jail cell three days after her detention for a traffic stop violation.
"Her purpose was to stop all injustice against blacks in the South," said Bland's mother, Geneva Reed-Veal, at DuPage A.M.E. Church in Lisle, Illinois.
As crowds listened to the obituary, Reed-Veal stressed that she did not believe that her daughter has committed a suicide while in police custody.
"The fact is I'm the mom and I still don't know what happened to my baby… I want to know what happened to my baby. I'm gonna find out what happened to my baby. My baby has spoken. She's still speaking and no, she didn't kill herself," Reed-Veal said, despite official version to the contrary.
Two days before the funeral, Bland's autopsy report showed that the activist committed suicide by hanging. None of the injuries on her body were found consistent with a violent homicide.
"I want everybody to understand Sandy knew what her purpose was," Reed-Veal said, describing her daughter's passion for exposing police brutality.
The 28-year-old was discovered dead in a cell at Waller County Jail in Hempstead, Texas, on July 13. Three days prior to the tragedy, she was detained for allegedly assaulting a state trooper during a traffic stop.
Attending the funeral, Senator Richard J. Durbin acknowledged that the young lady was stopped for a "highly questionable traffic violation," namely not signaling while changing lanes.
A police dashboard video of Bland's confrontation with the trooper showed Brian T. Encinia pointing a stun gun at Bland and threating to drag her out of the car. A video from the arrest shot by a bystander, showed the officer forcing Bland to the ground as they argued. The black woman was on the way to Texas to begin her job at Prairie View A&M University.
"When you are about to start a new job, when you know your family is about to bring the money for your release, when you are an activist and a fighter, you don't take your own life," said Rev. Theresa Dear.
While Bland's family acknowledged the possibility of Sandra struggling with depression, they continue to dispute the suicide ruling. Bland's death caused an explosion of outrage on Twitter, where her name has been placed alongside other police brutality victims – Michael Brown, the black 18-year-old killed last year in Ferguson, and Freddie Gray, a black man who died after an arrest by the Baltimore police.
"We will not funeralize a martyr or a victor. We will celebrate a hero," church pastor James F. Miller said as he led the funeral. "Sandy was ours and we take care of our own."
Miller urged the congregation to "go online and shut down the justice department's website asking for a federal investigation into her death."
The 28-year-old aspiring social activist was laid to rest in all white suit. A yellow and peach rose was placed on top of her body. "Sandra Bland AKA 'Sandy,'" was engraved on her white casket.