Sandra Bland autopsy: No evidence of 'violent homicide'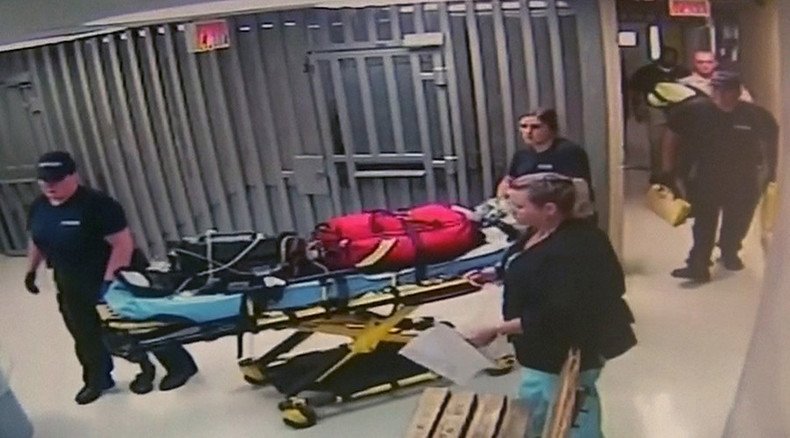 The autopsy conducted after Sandra Bland's death in a Texas jail cell showed that the activist committed suicide, the Waller County District Attorney's Office said. None of the injuries on her body were consistent with a violent homicide.
Neither Bland's hands nor her neck had injuries consistent with those found in cases of homicide by hanging or strangulation, according to the newly released autopsy results.
Bland had marijuana in her system at the time of her death, as well as 30 cut marks on her left wrist that were at least two to four weeks old, Waller County Prosecutor Warren Diepraam said during a press conference Thursday afternoon.
READ MORE:'Clearly doctored': Texas police blame Sandra Bland arrest video flaws on tech issues, not edits
"The Harris County Medical Examiner's Office, as you know, has listed the cause of death as hanging and the manner of death as a suicide, based upon the physical and pathological findings of their highly qualified assistant medical examiner in this case, which has been reviewed by Dr. [Dwayne] Wolf, who is second-in-command at the Harris County Institute of Forensic Science," Diepraam said.
The DA's office released the autopsy report and related findings based on "specific allegations from some individuals about the circumstances that occurred in the Waller County jail and/or on the streets of Prairie View, Texas," where Bland was arrested, Diepraam said.
One of the rumors, he noted, involved possible drug use.
"There have been instances or claims about a substantial amount of marijuana found in [Bland's] system," Diepraam said. "I can tell you that there has been a confirmation of those results."
"However," he added, "the results are preliminary, and were done through a specific scientific test that is common in the field to determine the presence of marijuana… [It] is, simply, a very reliable screening process."
The final toxicology report may be released as early as Friday, Diepraam noted.
READ MORE: 'What happened in that jail?' FBI to probe death of black activist found hanging in Texas cell
Another rumor was that the county had requested a second autopsy be conducted.
"We have not asked for, nor do we intend to ask for, a second autopsy," Diepraam said. "The family of Miss Bland… may have requested a second autopsy for themselves. That is with their purview and within their capabilities. We certainly would endorse them in whatever they want to do, and we hope that they will be as publicly disclosing with their information as we have been with ours."
Bland's family has vocally denied that she would have committed suicide in the jail, noting she was extremely excited to begin her new job at Prairie View A&M University.
On top of the lack of injuries consistent with those found in cases of homicide, there were marks consistent with self-harm, Diepraam noted.
"As the case developed, it became apparent that suicide has become a possible issue in this particular case," the prosecutor said. "As to that, there were, on her left arm, what the pathologist conducting the autopsy described as 'cut marks'."
"There were approximately 30 cut marks on her left wrist, which were also in a state of healing," he continued. "These roughly 30 cut marks were both in a state of scarring and scabbing, indicating they may have been placed on [Bland's] body roughly two to four weeks prior to her incarceration."
Both Diepraam and Waller County District Attorney Elton Mathis stressed that the findings released Thursday were factual in manner, and that there has been no determination from the DA's office as to whether any criminal activity occurred either during Bland's traffic stop and subsequent arrest and her death in the Waller County jail.
You can share this story on social media: