Epic win for Jamaica's Reggae Boyz, 'shocking loss' for US football team in Atlanta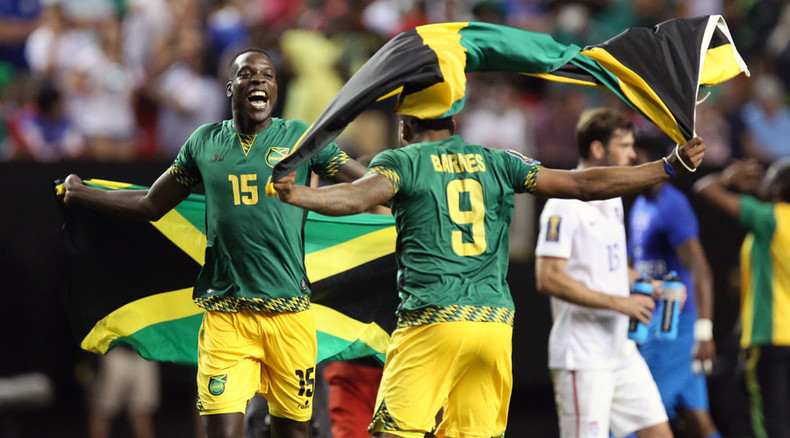 Jamaica, ranked 76 in the world, has become the first Caribbean nation to reach a Gold Cup final. What was supposed to be an easy win for America turned into the first home loss for the US team to a Caribbean nation since a 1969 defeat to Haiti.
Jamaican footballer Darren Mattocks, 24, scored the first goal in the 31st minute. Shortly after Giles Barnes scored from a free kick to put Jamaica ahead 2-0 at the Georgia Dome in Atlanta.
Michael Bradley's goal in the 48th minute held out promises for the US team, but didn't change things for the better in the long run. Throughout the game they kept charging at Jamaican goalkeeper Ryan Thompson, who plays for the Pittsburgh Riverhounds in the third-tier United Soccer League. Bradley almost evened the game in the 57th, when his shot rebounded off Thompson's chest, struck the near post and deflected away.
In the 71st minute, the US's Brad Evans sent a long throw-in into the box, which German-American John Brooks reached with a header. It was on target, but Thompson dove spectacularly to prevent the goal.
"We've shocked a few people along the way, but we've not shocked ourselves. We don't fear anybody. We put out a great team," US coach Jurgen Klinsmann told AFP.
"The luck was not with us but maybe we were not clinical enough as well," he added. "We saw a lot of good stuff, but it's the goals that matter."
While the US team and fans are disappointed, Jamaica's Reggae Boyz have a big reason to celebrate.
On Sunday, they will play for the crown in Philadelphia against six-times champion Mexico.
"We cannot have a party now. We still have one more match," Jamaican coach Winfried Schaefer said. "Bob Marley comes after the match," he added.