Arizona Apache tribe protests burial ground land-swap at US Capitol
Published time: 22 Jul, 2015 22:25
Edited time: 23 Jul, 2015 13:33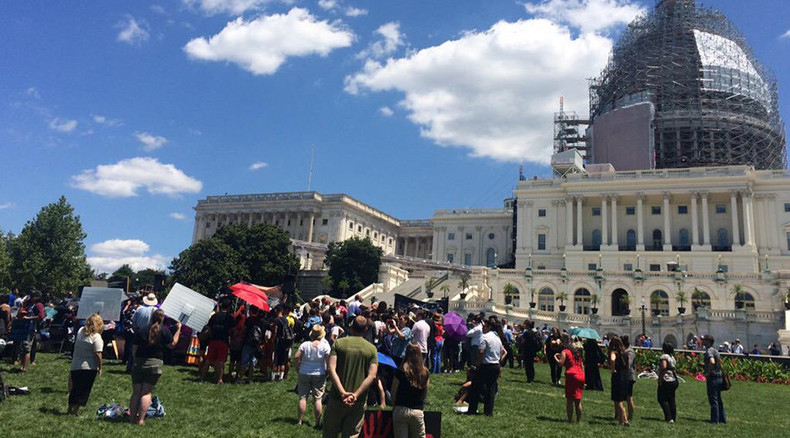 A group of Native Americans have led a protest from Arizona to the US Capitol, demonstrating against a land-swap that would give sacred lands belonging to the San Carlos Apache and other tribes to a foreign mining company.
Wednesday's rally on Capitol Hill is the culmination of a 2.5-week journey from Tucson, Arizona to Washington, DC. The Apache Stronghold National Convoy began with a run from Sacred Mt. Graham to Sacred Oak Flat on July 5. The following day, the caravan departed for the nation's capital, with stops in Arizona, Colorado, South Dakota, Minnesota, Illinois, Pennsylvania and New York along the way.
On Tuesday, the group demonstrated with a Sacred Run in the District that ended at Lafayette Square in front of the White House, followed by a march to the capitol.
The Apaches are protesting a contentious land-swap bill in southeastern Arizona that was co-sponsored by two Arizona representatives and both of the state's Republican senators, John McCain and Jeff Flake. The bill's language was later absorbed into the National Defense Authorization Act (NDAA), which Congress passed in December.
READ MORE: Congress gives Native American lands to foreign mining company with new NDAA
The law mandates the handover of a large tract of Tonto National Forest to Resolution Copper, a subsidiary of the Australian-English mining company Rio Tinto, a tenth of which is owned by China. It includes the giveaway of Apache burial, medicinal and ceremonial grounds currently within the bounds of Tonto.
Apache Stronghold doing spiritual run and ceremony in front of capitol. We finished our mission nothing but solid work from here on out. #saveoakflat #protectoakflat #Medicine2Strong

Posted by Apache Stronghold on Tuesday, July 21, 2015
"It affects every American, from the sacred sites of Apache people, Native people, with McCain doing what he did on this bill, now affects all Indian country," Apache Stronghold founder Wendsler Nosie Sr. told Democracy Now! on Monday. "And then, on top of that, put it in a defense bill, which - you know, our veterans have defended this country for freedom of speech and the freedom of religion, and to stick it there and also to know that Native people were put on reservations and the social illness that we still have from that, and it's a reminder of what America did to the Native American people."
The land proposed to be given to Resolution Copper, in exchange for other lands, includes prime territory that Apaches have used for centuries to gather medicinal plants and acorns, and it is near a spot known as Apache Leap, a summit from which Apaches jumped to avoid being killed by settlers in the late 19th century.
"The struggle to my people, it's something really sad to see, because this has been happening to us from when the colonizers have come. So if they're still doing this today, what happens for my children?" Naelyn Pike, Nosie's granddaughter, told Democracy Now! co-hosts Amy Goodman and Juan González. "That's what I see: the future of our people. If this continues, there will be - we will no longer be Apache, because the identity of who we are, to come back to these sacred places and to go and pray, it's our identity, and it's just going to be stripped away."
READ MORE: Arizona rep. offends Native Americans by calling them 'wards of the federal government'
Lands included in the plan will stop 1,500 feet short of Apache Leap and will not initially include an area known as Oak Flats, though, when it comes to the oaks, contradictory legal parameters are but a minor hurdle for a company like Resolution Copper to eventually drill there.
"And then, on top of that, Arizona itself, with the contamination that's going to come from that, and the most important part is that there was no transparency," Nosie said. "And no one knows in Arizona, as well as in America, the effects that are going to come from that. And being that mining is always short-term, rather than be 20 or 30 years, but what's going to be left behind?"
The protest is about more than just Apache lands, though, he noted. It's about the entire political process and its lack of transparency.
"What America is learning is about the exemptions, that it's not only happening in Indian country, but it's happening in America," Nosie told Goodman and González. "So here is an opportunity for American people to band together so that we can correct what Congress does in these late-night riders."