Florida gun store owner announces 'Muslim-free zone,' DOJ called to investigate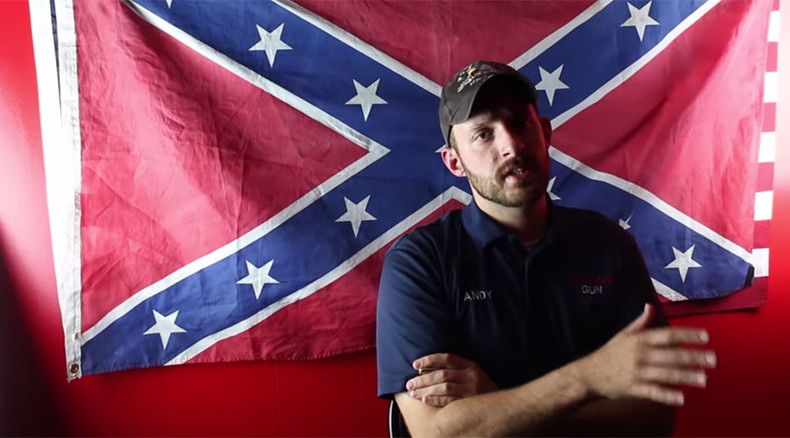 With a Confederate flag behind him, Florida gun store owner Andy Hallinan released a video calling for "his fellow patriots" to reject accusations of intolerance and racism, all while announcing a ban on Muslims at his store.
Hallinan, owner of Florida Gun Supply in central Florida, said he made his decision following the fatal shooting of five people at a Naval Reserve center in Tennessee last week.
Seated in front of the Confederate flag - which was never the official flag of the Confederate States of America and only became popular in the 1960s as a symbol of the American South's opposition to racial integration - Hallinan began the video saying, "The leaders of this country want you to believe that this flag represents white supremacy, hatred, and intolerance. But that's not true," adding that it represented "nothing but the rich heritage of the South, and a willingness for patriots to stand up against tyranny of all sorts."

He insisted he celebrates the flag "not because I'm a racist. Because I'm not."
Surprisingly he didn't declare his shop a "White male-free zone" after Charleston...I'm certain he'll rectify this… http://t.co/trRubcDRYF

— obinna nwokolo (@nwokolo) July 21, 2015
He added that "racism was on the decline in America until Obama took office" and that national "leaders are trying to tell you that anytime a black man is shot by a white cop, it's because of race."

He shifted to his collective view of all Muslims following the attack by Muslim gunman Mohammed Abdulazeez that killed four US marines and one sailor in Chattanooga, Tennessee last week.

He said the Tennessee attack is not an isolated incident but rather related to other "terrorist attacks."

He said his store would offer free concealed-carry classes and shooting range visits, imploring viewers to "take this opportunity to get armed, get trained, and carry daily."

To meet a "moral and legal responsibility to ensure the safety of all patriots in my community," he declared his store a "Muslim-free zone."
The Council on American-Islamic Relations (CAIR) issued a statement in response to the video, calling on the US Department of Justice to investigate any possible federal civil rights violations by businesses in Florida and New Hampshire seeking to ban Muslims.

"These bigoted declarations are no different than 'whites only' signs posted in businesses during a period of our nation's history that we had hoped was over," said CAIR National Communications Director Ibrahim Hooper. "The Department of Justice must investigate these hate-filled and un-American business practices to determine whether federal civil rights laws are being violated."
A supposedly "Muslim-free" shooting range in Hot Springs, Arkansas made news last year for openly profiling customers after turning away a pair of Hindu men who came to use the firing range.
You can share this story on social media: