OPM director resigns over hacks that exposed 21.5 million people's data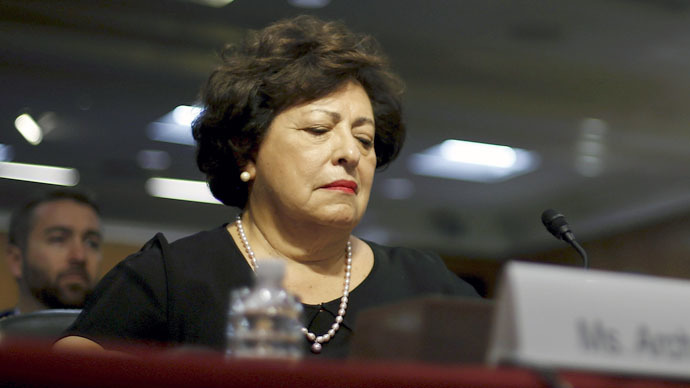 The embattled director of the Office of Personnel Management (OPM) has resigned in the wake of two massive data breaches that have left 21.5 million Americans at risk of identity theft.
On Friday morning, President Barack Obama accepted Katherine Archuleta's resignation as the head of the agency that oversees government personnel, a White House official said. Archuleta will remain in her position at OPM until the end of the day.
Archuleta visited Obama to personally tender her resignation, saying she felt new leadership was needed to enable OPM to "move beyond the current challenges," the official told the New York Times.
OPM's deputy director of management, Beth Cobert, will step in as a placeholder until a permanent director is confirmed.
Calls for Archuleta to resign began in June, when the agency announced that it had discovered that it had been hacked. At the time, OPM said on 4 million federal workers were affected. The agency detected the initial breach in April, but believes it may have occurred in December 2014, Archuleta told Congress in mid-June.
While investigating that breach, the government found a second hack had occurred, in which the intruders managed to steal the entire federal database of Standard Form 86. The 127-page-long form is submitted by individuals for a background check to gain security clearances. It contains highly personal information about the applicant, including possible drug and alcohol abuses, and financial and criminal histories. In addition, it contains a reference section with extremely sensitive information concerning the individual's contacts and relatives, including their personal data.
READ MORE: Second OPM hack puts 21.5 million people at risk
On Thursday, OPM admitted that the second data breach actually affected 21.5 million people. Of those, 19.7 million were individuals who had submitted to federal background checks, while the other 1.8 million people were non-applicants, such as family members of those who were being checked.
Some 1.1 million records included fingerprint data. OPM added that hackers also got away with the usernames and passwords that individuals used to submit their background investigation forms. Not just current federal employees were affected, either, but also former and prospective ones.
During a combative congressional hearing in mid-June, Archuleta and other OPM staff blamed the hacks on outdated security systems, noting that the OPM Inspector General has issued report after report detailing OPM's security shortcomings.
As late as Thursday, Archuleta said she would not resign, despite a mounting number of calls to do so from members of Congress in both parties.
"We have a very aggressive push to enhance our cybersecurity and modernize our systems, and we will continue to do so," she said during a conference call Thursday afternoon. "I am committed to the work that I am doing at OPM."
Archuleta took the reins at the agency in November 2013, becoming the first Latina OPM director. Previously, she served in the Clinton administration and as the chief of staff at the Department of Labor under Obama.
You can share this story on social media: