Carnival Cruise Line pushing 'social impact' trips to Cuba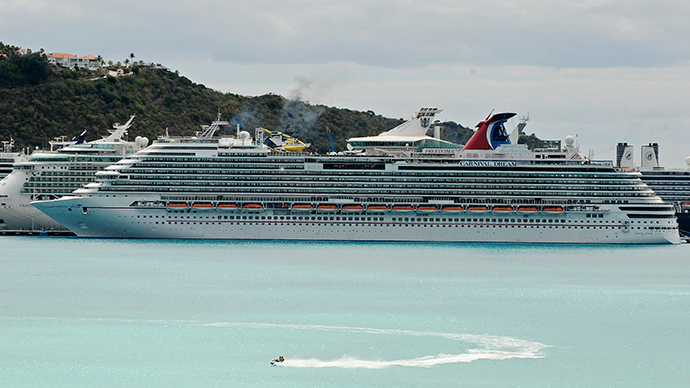 Carnival Corp., the world's largest cruise ship company, is seeking approval from Cuba to begin trips between the island nation and the United States that emphasize cultural and humanitarian exchanges. The US has already approved the cruises.
The trips, already validated by the US Treasury and Commerce Departments, will not be considered tourism, which is still prohibited under US law.
Once Cuban approval is achieved, Carnival would begin biweekly, seven-night trips in May 2016 on the company's 710-passenger Adonia ship, Reuters reported.
READ MORE: Cuba prepares to open its first US bank account in more than a year
The vacations would center around "cultural, artistic, faith-based and humanitarian exchanges between American and Cuban citizens," the company said in a statement.
A trip-goer would have to put down a $600 deposit to reserve a spot on the ship, with a final price tag of $2,990 per person after taxes and other fees. A similar "social impact" trip to the Dominican Republic is $1,540 per person.
The trips would be operated by Fathom, a new brand under the Carnival umbrella that "cater[s] to an under-served market of consumers who want to have a positive impact on people's lives," Carnival CEO Arnold Donald told USA Today last month.
"Social impact" travelers will be offered opportunities to work on short-term projects ‒ such as water filtration systems or English lessons ‒ in destination countries. The cruises would focus on education, a clean environment and economic development, with workshops based on the nation's heritage.
For info on our cultural exchange opportuniites in #Cuba, intended to begin May 2016, visit http://t.co/iAD5F7WT1r. pic.twitter.com/liFgvHjNVQ

— fathom (@fathomtravel) July 7, 2015
Carnival expects Fathom to serve 37,000 travelers a year, equaling out to more than 100,000 days of volunteer work or cultural immersion annually.
"Cuba represents an important step for us to expand our ability to offer meaningful and enriching experiences to purpose-driven travelers," Fathom President Tara Russell said in a statement.
READ MORE: Havana calling: US, Cuba re-establish direct undersea telephone cable
The United States severed political ties with Havana in 1961 after imposing an embargo on the island nation just 90 miles south of Florida a year before. Tourism to Cuba for Americans has been banned since that time. Though Cuba is still under communist rule, the Cold War mentality that has defined the relationship between the two countries over the last 50 years finally seems to be thawing.
Last week, President Barack Obama announced that the US and Cuba could open embassies in each other's capitals as early as July 20.
"We don't have to be imprisoned by the past. If something isn't working, we can and will change," Obama said from the White House. "The best way for America to support our values is through engagement."

Washington severed relations with Cuba after revolutionaries led by Fidel Castro overthrew the US-backed dictatorship of Fulgencio Batista. Noting that he was born in 1961, Obama quoted President Dwight Eisenhower's hope that ties with Cuba would be renewed someday.
"It took a while, but I believe that time has come," Obama said.
The embassy announcement is a major step in the Obama administration's push for a full diplomatic thaw, which began on December 17, 2014, when the US and Cuba announced that the two nations would move to mend previously hostile relations. Since then, the United States has loosened travel restrictions and allowed some new economic ties.
Obama met with Cuban President Raul Castro during a summit meeting in Panama in April, the first time that the leaders of their respective countries had met in more than 50 years.
In June, the US removed Cuba from its 'State Sponsors of Terrorism' list, which was a major obstacle in way of the renewal of cordial relations.
The Obama administration has long supported engagement with the island country, and insists that the embargo has been ineffective.