Obama officially asks Congress to remove Cuba from terror list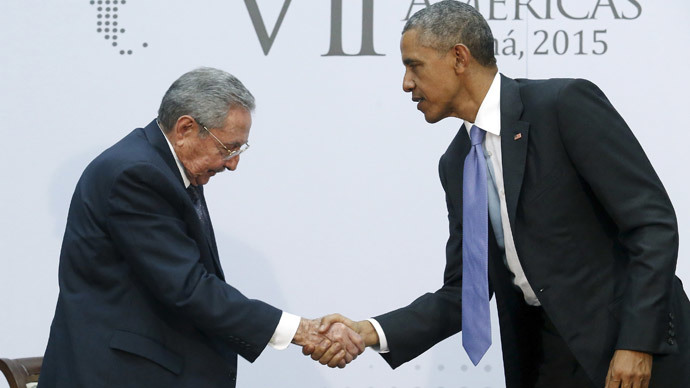 The United States no longer wants to list Cuba as a state sponsor of terrorism, the White House has announced. Its removal is a key step in President Barack Obama's plan to normalize relations between the US and Cuba.
Obama submitted the report and certification documents to Congress that are legally required to officially remove Cuba as a state sponsor of terrorism, the White House National Security Council tweeted Tuesday.
Today POTUS submitted to Congress statutorily required report & certifications indicating Admin's intent to rescind #Cuba's SSOT designation

— WH National Security (@NSCPress) April 14, 2015
"We will continue to have differences with the Cuban government, but our concerns over a wide range of Cuba's policies and actions fall outside the criteria that is relevant to whether to rescind Cuba's designation as a State Sponsor of Terrorism," the White House said in a statement.
Obama's decision came after the State Department reviewed Cuba's presence on the list, AP reported. The US has not actively accused Cuba of supporting terrorism in years.
"Put simply, [Obama] is acting to remove Cuba from the State Sponsor of Terrorism list because Cuba is not a State Sponsor of Terrorism," Ben Rhodes, the deputy national security advisor for strategic communications and speechwriting, tweeted.
READ MORE: Obama, Castro in first sit-down between US, Cuban leaders in more than 50 years
The move to clear Cuba from the State Sponsors of Terrorism list comes just two days after a historic meeting between Obama and Cuban President Raul Castro on Saturday at the Summit of the Americas in Panama City, Panama.
It was the first meeting of leaders from the the two countries in over 50 years ‒ since before the Cuban Revolution, in which Castro's brother Fidel Castro overthrew the Cuban government in 1959.
In last April's annual Country Report on Terrorism, the State Department admitted that Cuba did not belong on the list.
"There was no indication that the Cuban government provided weapons or paramilitary training to terrorist groups," the report said. It did note that Cuba has historic ties to two regional terrorist groups ‒ the Basque Fatherland and Liberty (ETA) in Spain and the Revolutionary Armed Forces of Colombia (FARC) ‒ but said the ties "have become more distant."
Cuba was placed on the list in 1982, due to its support for armed revolutionary groups in Latin America.
"Circumstances have changed since 1982," Secretary of State John Kerry said in a statement. "Our Hemisphere, and the world, look very different today than they did 33 years ago. Our determination, pursuant to the facts, including corroborative assurances received from the Government of Cuba and the statutory standard, is that the time has come to rescind Cuba's designation as a State Sponsor of Terrorism."
In his message to Congress as he submitted the necessary documents, Obama said the government of Cuba "has not provided any support for international terrorism" over the last six months. He also told lawmakers that Cuba "has provided assurances that it will not support acts of international terrorism in the future."
Sen. Jeff Flake (R-Arizona) applauded the move on Twitter.
"[White House] and State Dept agree it's time to remove Cuba from Terrorism list," he wrote. "Good move. The list should mean something. It means more now."
If Cuba is removed, the remaining countries on the State Sponsor of Terrorism list would be Iran, Sudan and Syria.
Final removal requires congressional action within 45 days. If Congress approves, it would pave the way for the US to open an embassy in Havana, and Cuba to open an embassy in Washington, DC.
You can share this story on social media: