Car flies into fence in horrible NASCAR crash, driver stays alive (VIDEO)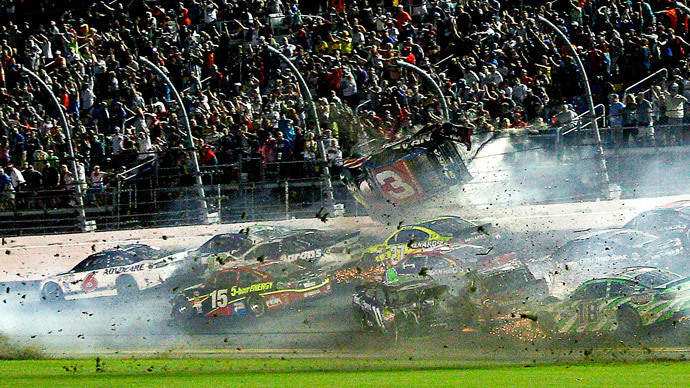 Even though his car was ripped to shreds in a high-speed crash into the catchfence at Daytona International Speedway on Monday, NASCAR driver Austin Dillon escaped unharmed. Five spectators, however, were injured by debris.
The incident occurred on the final lap when race winner, Dale Earnhardt, Jr., had already crossed the finish line.
Dillon's car, positioned at the back of the peloton, went flying into the air after his opponent impacted his vehicle having lost control of his own.
It hit the security barrier hard; It essentially fell to pieces, sending debris into the packed stands.
Dillon's car then landed roof-down and received another hit by a spinning Brad Keselowski.
Remarkably, the driver avoided injuries in the crash and managed to get of the rubble without help.
However, five racing fans were wounded. Four of them were treated on sight, with one person taken to hospital and quickly released, he said.
Dillon described his crash as "vicious," saying the he held on to the steering wheel as hard he could.
"It's twisting you around in there, and the belts are loosening with each hit, so the hits are getting more and more violent. By the fourth hit, you've separated enough so that the fourth one is going to hurt more than others," the driver said as cited by USA Today.
The speeds in the North American stock car series, NASCAR are "too high" and something must be done about it, he stressed.
"I think everybody could get good racing with slower speeds. We can work at that, and then figure out a way to keep the cars on the ground," Dillon said.
READ MORE: No charges brought after NASCAR champ hits, kills competitor (SHOCKING VIDEO)
Daytona is known for providing at least one big crash during every race as the legendary circuit sees cars traveling at the speed of 200 miles per hour (320 kilometers per hour), very close to each other.