​Oy vey: Orthodox Jewish group hires Mexicans to protest NYC Pride
Published time: 1 Jul, 2015 03:21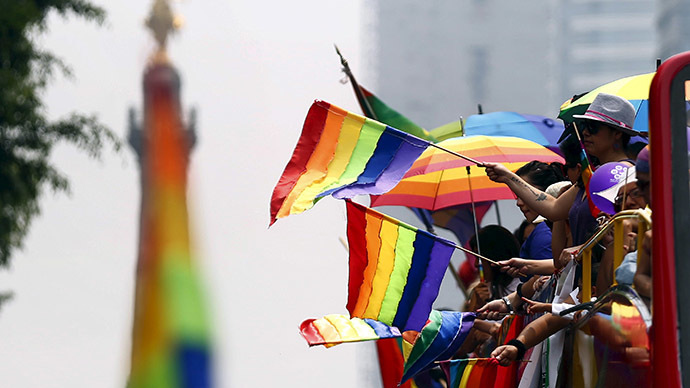 A group of Mexican men were paid to protest homosexuality at the New York City Pride parade. But what they wore made them stand out: They were dressed as Orthodox Jews in tzitzit (fringed Jewish prayer garments), black hats and fake peyot (sidelocks).
The unexpected sight was first reported on by the New York Times, which snapped a photograph of the men as they stood behind a barricade near the parade route. Accompanying the men were numerous signs proclaiming an opposition to same-sex marriage.
One sign declared that "Judaism prohibits homosexuality," while another read, "Today man marries man; tomorrow man marries sister."
So awkward. Orthodox Jews hired Mexican workers to dress like them and protest NY Pride. http://t.co/VyXnEZPYPSpic.twitter.com/cS61P3Myx3

— Q. Allan Brocka (@allanbrocka) June 30, 2015
The most interesting part about the Orthodox Jewish protest, though, was the fact that the men protesting were not actually Jewish.
"They were Mexican laborers, protesting because they were paid to protest, said one of the men, who would not give his name," the NY Times reported.
An Orthodox Jewish group hired Mexican laborers to protest gay pride for them: http://t.co/3WonM6kJkupic.twitter.com/WQum7bqI1t

— Gawker (@Gawker) June 30, 2015
The signs featured the logo of the Jewish Political Action Committee, a group run out of Brooklyn. One member of the committee, Heshie Freed, told the Times that the non-Jewish men were protesting because Jewish students were not allowed to actually come out and witness the annual parade, which celebrates the lesbian, gay, bisexual and transgender culture.
"The rabbis said that the yeshiva boys shouldn't come out for this because of what they would see at the parade," Freed said.
It's not clear just how organized the committee actually is. After the Times brought attention to the group, it was reported that the organization might only be run by one individual.
NYT story failed to point out this "Orthodox Jewish" PAC appears to be just one guy, which is a detail they should really add

— Sarah N. Emerson (@SarahNEmerson) June 30, 2015
Either way, the undercover Mexican protesters were not welcomed by parade-goers, some of whom threw water bottles at them. Later, punches were thrown between one committee man and a parade-goer.
The incident occurred just a couple of days after the Supreme Court ruled that same-sex marriages were allowed under the US Constitution, and that states could not deny couples a marriage license based on their sexual orientation.