Heat & drought fuel Washington state wildfires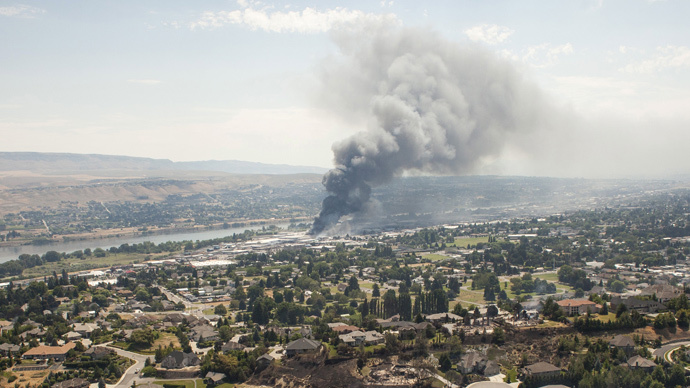 Wildfires in central Washington State have torched about 3,000 acres, or four square miles, around the town of Wenatchee. At least 24 homes and four local businesses have been burned, but no serious injuries have been reported.
Fire-fighting crews were able to control the blaze on Monday, reported the Associated Press, allowing evacuated residents back to their homes. High winds, unusually hot temperatures, and record drought conditions had allowed the fire to move at a rapid pace Sunday evening.
Dramatic Scenes From Washington State Wildfire - http://t.co/4PEgm5hM7w#Wenatchee#wildfirespic.twitter.com/UTtGw7KlcG

— Reg Saddler (@zaibatsu) June 30, 2015
The blaze began as a brush fire just outside of Wenatchee, 120 miles east of Seattle, on the east side of the Cascade Mountains. Officials estimated that four square miles were burned, AP reported, with some rain on Monday providing partial relief amid dry conditions in the region.
Several hundred residents were forced to evacuate at the peak of the fire, emergency officials said, according to the Seattle Times.
The two dozen houses that were destroyed sat in an upscale neighborhood on a hillside in Wenatchee.
A temporary Red Cross shelter set up at the Eastmont High School gymnasium housed 155 people Sunday evening. Conditions improved enough that the shelter was closed down on Monday.
Washington wildfire surges to 3,000 acres, destroys at least 24 structures http://t.co/5EswyyBslPpic.twitter.com/ISZT4XTiG1

— NBC Nightly News (@NBCNightlyNews) June 29, 2015
Fire crews concentrated on maintaining the advances they had made against the fire, working to put out hot spots or potential problems arising in already-burned areas, according to State Patrol Trooper Brian Moore.
Three firefighters suffered minor injuries, but there have been no reported injuries to residents.
Washington State Patrol Trooper Darren Wright said late Monday that firefighters were "in a holding pattern waiting to see what the weather does next."
Thousands fleeing wildfires in Washington State, during climate change linked drought: http://t.co/4Mu1cJVq8Mpic.twitter.com/zrV23n4OeU

— 350 dot org (@350) June 29, 2015
The fires occur amid severe drought in Washington. About one-fifth of the state's rivers and streams are at record-low levels, as mountain snowpack has fallen to exceptionally low levels.
READ MORE: Water-less Washington: State declares drought emergency
Washington Governor Jay Inslee issued an emergency proclamation last week, calling for the state to garner resources to counter wildfires.
Seven states in the American West are reporting large wildfires, while 64 conflagrations are raging across Alaska, according to the National Interagency Fire Center.
According to Alaska Wildland Fire Information, a state and federal partnership, Alaska has suffered 399 fires that have burned around 1,600,000 acres in June alone. That exceeds the total from June 2004, the worst-ever year for fires in the state, which saw 216 fires that burned about 1,153,257.9 acres.
"The wildfire situation this summer has mainly been triggered by repeated lightning storms tracking across an abnormally dry state. (The lightning has been astonishing; on June 21-23, some 50,000 lightning strikes were recorded in Alaska.) In fact, a comparison of fire records shows that June 2015 has had dramatically more lightning than June 2004," Alaska Wildland Fire Information reported.
READ MORE: California wildfire forces hundreds to flee their homes (PHOTOS)
In Washington state, lightning started a blaze in Olympic National Park that has burned more than 1,000 acres of woodland. The state is also combating a 3,000-acre fire in Saddle Lake, southeast of Wenatchee, and a 2,400-acre fire near Kennewick, according to AP.