NJ's Christie announces presidential run amid a crowded GOP field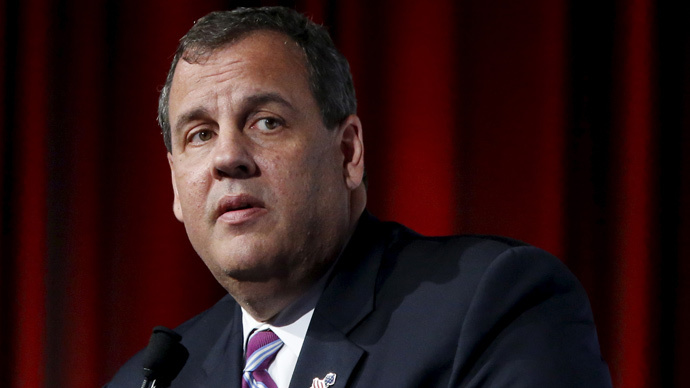 New Jersey Governor Chris Christie is throwing his hat into the presidential ring, giving donors and friends advance notice of his bid for the Republican candidacy, before formally announcing it at his old high school in Livingston.
"Going back to where you were when you were 15, or 16, or 17 years old, and to be able to stand in front of that group of people and offer yourself to the presidency is a really, really amazing moment," Christie said.
On Saturday, Christie launched a campaign website, ChrisChristie.com, featuring the slogan, "Telling it like it is."
Hey America, it's Chris https://t.co/77XhuWvAqP#TellingItLikeItIs

— Chris Christie (@ChrisChristie) June 27, 2015
However, he told a New Jersey radio show over the weekend that "there's been absolutely no final decision made by me," the second-term governor known for a blunt -- and at times confrontational -- demeanor has made trips to early primary states of Iowa and New Hampshire.
Christie's 30-percent approval rating in his own state has some wondering whether the former federal prosecutor can appeal to a broad coalition of conservatives amid a crowded field seeking the party's 2016 presidential nomination. Christie aides told Politico that the governor believes his self-perceived authenticity as a politician will come through during candidate debates, which are set to begin in August, and in New Hampshire, where moderate, establishment candidates have traditionally done well.
READ MORE: NJ governor spent $300k on groceries, drinks
A recent Reuters/Ipsos poll found that Christie held 5.6 percent support among Republican candidates, putting him behind five other candidates led by former Florida Governor Jeb Bush.
What are some of Christie's top challenges in his (likely) pursuit of the presidency?
Unpopular with the conservative base
As governor of a traditionally Democratic state, Christie's moderate-Republican record has not won him fans among the party's conservative rank-and-file, particularly with respect to social issues. Social issues have gotten the governor in trouble with rank-and-file conservatives. Christie's decision to halt attempts to reverse same-sex marriage legalization in New Jersey and statements in favor of gun control have earned the ire of conservatives, who largely dictate Republican politics in states like Iowa and South Carolina during primary season.
Christie's position on gun control has not endeared him to the right-wing of the party, either.
#Break: After tomorrow's announcement, Chris Christie will do hour-long intervu with - you guessed it - Sean Hannity http://t.co/ltNYJhUTTo

— Dylan Byers (@DylanByers) June 29, 2015
However, the governor has attempted to reach out to conservatives on hot-topic social issues. In early 2014, for example, Christie attempted to tout his "pro-life" position on abortion rights, though not without adding that the party's platform on abortion must broaden.
"When we say we're proudly pro-life, we have to be pro-life throughout their entire lives," Christie said at the Conservative Political Action Conference. "We have to be in favor of an education system that's accountable... it means we have to be in favor of a society that creates opportunity and jobs for them... Every life is precious."
During that speech, Christie also attempted to assuage concerns over his occasional cooperation with President Barack Obama, blasting the president's economic record while touting his own in New Jersey.
"We don't have an income inequality problem, we have an opportunity problem in this country because government's trying to control the free market," Christie said
The gaping holes in Chris Christie's campaign premise: http://t.co/uNQg584hWdpic.twitter.com/doDo7FRyIp

— The Democrats (@TheDemocrats) June 29, 2015
Social Security/Medicare proposal
Earlier this year, Christie was grilled for proposing an overhaul of Social Security and Medicare, two bedrock social programs that have high popularity in the US among both liberals and conservatives.
"Washington is afraid to have an honest conversation about Social Security, Medicare and Medicaid with the people of our country," Christie said in April. "I am not."
Announcing the proposal in New Hampshire, Christie said his plan would shrink benefits for some retirees, abolish them completely for individuals who make more than $200,000 in retirement, and raise the retirement age to 69 for Social Security and 67 for Medicare, a four-year and a two-year increase, respectively.
"Do we really believe that the wealthiest Americans need to take from younger, hard-working Americans to receive what, for most of them, is a modest monthly Social Security check," Christie said. "I propose a modest means test that only affects those with non-Social Security income of over $80,000 per year, and phases out Social Security payments entirely for those that have $200,000 a year of other income."
The proposal did not go over well. "He's acting foolishly and risks alienating retirees, who increasingly vote Republican," The Washington Post wrote, citing GOP strategists. "The people who would be most affected — blue-collar workers in middle age — are also an important constituency for any prospective candidate."
Fellow Republican presidential candidate Mike Huckabee said, "I don't know why Republicans want to insult Americans by pretending they don't understand what their Social Security program and Medicare program is."
On the left, Kevin Drum wrote in Mother Jones that the plan "forces the poor to work longer and effectively slashes their lifetime Social Security payout by nearly 15 percent."
"This is a huge reduction for anyone with a low income, and it's especially cruel since it would mostly target people who perform manual labor and have the hardest time working into their late 60s," Drum added.
Others wondered what Christie was thinking in a sense that tinkering with popular programs just wasn't smart politics.
"Does Christie really want to try to push the idea of raising the retirement age in New Hampshire, where 56 percent of primary voters are over the age of 50?"wrote FiveThirtyEight.com.
George Washington Bridge scandal
READ MORE: Bombshell? Ex-aide alleges Christie was behind NJ bridge closing scheme
Since January 2014, Christie has dealt with continuing controversy over his administration's closing of the much-traveled George Washington Bridge connecting New Jersey with New York in Manhattan. According to internal documents from Christie's office, the closure was a reprisal against the mayor of Fort Lee, New Jersey, who did not endorse Christie's 2013 reelection bid.
The closures shuttered multiple lanes of an onramp to the bridge, resulting in four days of heavy traffic in Fort Lee from September 9-13, 2013. Christie fired deputy chief of staff Bridget Anne Kelly after her emails about the closures were revealed. The governor has denied involvement in the scheme.
In May 2015, federal prosecutors announced charges against Christie allies, including transportation official David Wildstein, who ordered the closures. Wildstein has claimed that Christie is to blame for the bridge affair, saying he has evidence to prove the accusations.
The lane closures slowed one of the busiest bridges in the US. The Fort Lee EMS department has said that it took emergency crews one hour to wade through traffic and respond to four medical calls on the first day of the traffic freeze. One woman, a 91-year old, who laid unconscious waiting for EMS to treat her cardiac arrest, later died. It is unknown if her life would have been saved if the bridge hadn't been closed.
Chris Christie's 2016 campaign website will be the first thing he's ever done that results in little or no traffic.

— Frank Conniff (@FrankConniff) June 29, 2015