Jill Stein announces 2016 Green Party presidential bid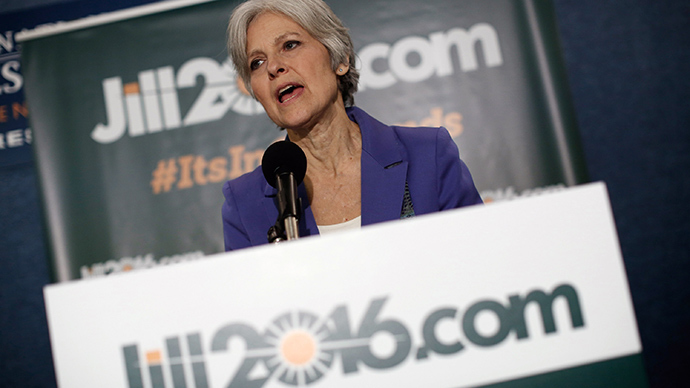 The most successful female presidential candidate in US history is making another White House bid. Dr. Jill Stein announced she would seek the Green Party nomination, joining sixteen other contenders in the 2016 presidential race so far.
The third woman to join the campaign, Stein made the official announcement on Tuesday, at the National Press Club in Washington, DC. Her platform, dubbed "The Power to the People Plan," seeks to answer the "economic, social, and ecological crises brought on by both corporate political parties," and "empowers the American people to fix our broken political system and make real the promise of democracy," Stein's campaign said in a statement.
"The Power to the People Plan creates deep system change, moving from the greed and exploitation of corporate capitalism to a human-centered economy that puts people, planet and peace over profit," said Stein, adding "The power to create this new world is not in our hopes, it's not in our dreams - it's in our hands."
Stein's campaign video, unveiled Tuesday, features supporters holding up signs with slogans from the program, accompanied by the hashtag #ItsInOurHands.
"The one percent is quaking in their boots, because we're waking up to the fact that we have power, and we're going to use it!" Stein is shown proclaiming at a rally.
US Pres Candidate #JillStein goes on record live on @RT_America now calling #Netanyahu admin "war criminals." #Palestine#Israel#Jill2016

— Manila Chan (@ManilaChan) June 23, 2015
Born in Chicago, Stein graduated from Harvard College and Harvard Medical School, and lives in Lexington, Massachusetts. In the 2012 presidential election, she received a total of 456,169 votes, or 0.36 percent nationwide, making her the most successful female presidential contender in US history. Stein received more than one percent of the popular vote in Maine, Oregon and Alaska.
Her 2012 platform advocated a "Green New Deal," in which employment issues and climate change would be addressed through renewable energy jobs, employing "every American willing and able to work." She said she would fund the plan by reducing the US military budget and bringing the troops home, while raising taxes on capital gains, high-end real estate and offshore tax havens. Stein also called for expanding city mass transit and linking cities by rail.
Twelve Republicans and four Democrats have officially entered the race so far, with Hillary Clinton and Jeb Bush considered front-runners in the mainstream polls. Vermont Senator Bernie Sanders, an independent who has also criticized corporate influence over US politics, chose to run for the Democratic nomination. Stein is pinning her hopes on the support of voters as disillusioned with the Democrat-Republican duopoly as they are passionate about climate change, jobs and social justice.
READ MORE: Jill Stein: US faces 'political problem' in tackling violent gun crime
"I am running with the only national party that does not take corporate funding," Stein told Democracy Now on Monday. "I have a people-powered campaign."
Stein was one of the "third party" candidates participating in the 2012 presidential debate hosted by RT. Republicans and Democrats have dominated US politics ever since the Civil War, with other contenders rarely garnering double-digit support.
The biggest success for a third-party challenger was Progressive Party's showing in 1912, when Theodore Roosevelt won 27 percent of the popular vote. It was the only time a third-party candidate outpolled someone from an establishment party.
The last major third-party candidacy was Ross Perot's presidential run in 1992 on the Reform Party ticket. Perot won almost 20 million votes or 19 percent of the total ballots, but no Electoral College votes.
You can share this story on social media: