Medical marijuana not as effective as previously thought – study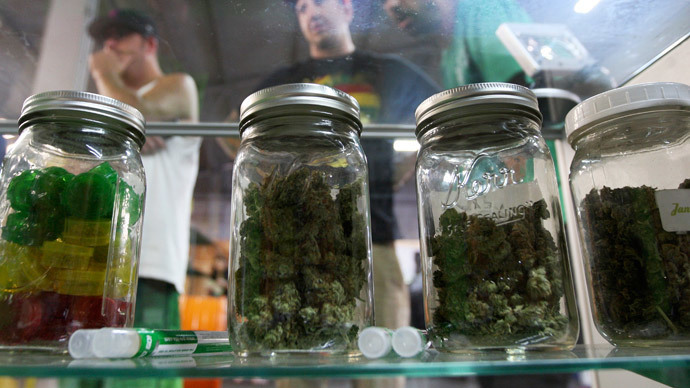 Medical marijuana can help some medical conditions, but it is no "wonder drug," as it is not clearly effective in treating a number of problems that it was believed to, according to comprehensive review of past research.
Published in the Journal of the American Medical Association, the analysis considered 79 studies that involved nearly 6,500 people. Medical pot, legal in 23 US states and the District of Columbia did show effectiveness in treating those with long-lasting pain, muscle spasms, and stiffness in those with multiple sclerosis.
Past research, though, found that there was less strong evidence regarding marijuana's ability to ease nausea caused by chemotherapy, anxiety, sleep disruption, HIV-related weight loss, and Tourette's syndrome.
Researchers also questioned evidence showing that marijuana improves certain conditions, evidence which partly led US states reforming the drug's legal status.
READ MORE: Legalization has no effect on teen pot use – study
"If the primary process by which medications are approved for 'medical' use in the U.S. is the (Food and Drug Administration) approval process, then the evidence for many conditions does not meet the existing threshold of evidence," Yale psychiatrists Drs. Deepak Cyril D'Souza and Mohini Ranganathan wrote in an editorial that accompanied the study
The study's lead author said any benefits of cannabinoid use must be compared with potential side effects, including dry mouth, sleepiness, and dizziness.
"Individuals considering cannabinoids as a possible treatment for their symptoms should discuss the potential benefits and harms with their doctor," said Penny Whiting, of University Hospitals Bristol NHS Foundation Trust.
The researchers looked specifically at past studies that tested pot against placebos, normal care, or no treatment at all.
Many of the studies found no conclusive evidence of benefits gleaned from medical marijuana use. Yet the study's authors wrote that much more high-quality research must be d11 to accurately analyze marijuana benefits.
"It's not a wonder drug but it certainly has some potential," Dr. Robert Wolff, a co-author and researcher with Kleijnen Systematic Reviews Ltd., said, according to the Associated Press.
READ MORE: No pot for you: Colorado court upholds firing over medical marijuana
Scientists have also claimed that comprehensive medical pot research has been stifled by the federal government, which has not legalized marijuana and classifies it as a controlled substance with no accepted medical use.
"Both patients and doctors should demand that the government support high quality research to conclusively determine whether marijuana has therapeutic effects in the various conditions for which it has been currently approved," the Yale psychiatrists wrote.
I'm amused at the anti-medical marijuana stories. Of course there is no evidence. Because its illegal and their have been no trials

— james penrod (@james_penrod) June 23, 2015
The US government is easing restrictions on marijuana research. On Tuesday, a notice in the Federal Register announced that the US Department of Health and Human Services will no longer require private research proposals to file a federal Public Health Service with the department, as it duplicates a review required by the US Food and Drug Administration.
In another study published in the Journal of the American Medical Association, researchers found misleading labeling on medical marijuana products.
Of 75 edible products from dispensaries in Los Angeles, San Francisco, and Seattle, less than one in five were labeled as having the correct amount of THC, marijuana's top active ingredient. Almost one in four had higher amounts of THC than labeled, while most had lower amounts.
You can share this story on social media: