US confidence in police at 22-year low, still above 50 percent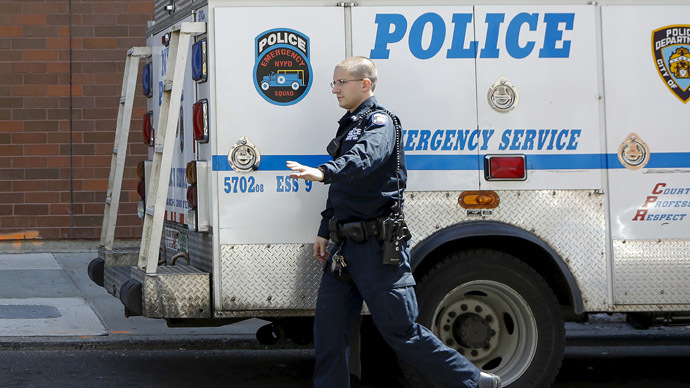 Fifty-two percent of Americans have reported steadfast confidence in the police, according to Gallup, tying a low mark recorded in 1993, the year four white Los Angeles police officers were on trial for their 1991 beating of Rodney King.
Twenty-five percent and 27 percent of Americans said they have "a great deal" and "quite a lot" of confidence in police, respectively. Thirty percent of respondents to Gallup's annual question on institutional confidence said they only had "some" confidence in police, 16 percent said "very little," and 2 percent said "none." Gallup conducted the poll in the first week of June.
Though trust in police is down from a high of 64 percent in 2004, police departments still rank very high among confidence in American institutions, trailing only the military and small businesses among 15 institutions involved in Gallup's polling.
Recent high-profile incidents involving white police officers using deadly force against unarmed black men in Ferguson, Missouri and Staten Island, New York, among others, have put a spotlight on police-community relations, and are likely a reason for the drop in confidence among Americans, Gallup reported.
Yet despite recent police violence, especially in communities of color, confidence in law enforcement among black Americans is down only six points from 2012-2013, at 30 percent.
"The recent incidents in which black men were killed at the hands of white police officers trying to apprehend them have attracted a lot of media attention, but on a partisan basis they seem to have affected only the way Democrats view the police. The news has had less effect on how blacks specifically view the police, but that is most likely because blacks had far less confidence in the police long before these events happened,"Gallup wrote.
Democrats' confidence in police, however, has dropped by 13 points, from 55 percent to 42 percent. That is the largest change for any subgroup in Gallup's survey.

Independents (51-percent confidence) and Republicans (69 percent) reported little change from previous polling.
Among other major drops: Hispanics' confidence in police is down 8 points to 52 percent; those 18 to 29 years old reported a 7-point drop, to 50-percent confidence; postgraduate degree holders' confidence is at 52 percent, an 11-point fall; and those with annual household incomes of $75,000 or more reported a 7-point decrease, coming in at 56 percent. Despite lowered confidence in police among all of these subgroups, their totals remain very near the overall 52 percent confidence among all Americans.
"Although confidence in police is at its low point, the majority of Americans remain confident in this institution and have more faith in it than in most other institutions," Gallup noted.