Video surfaces of Chicago cop shooting into car full of black teenagers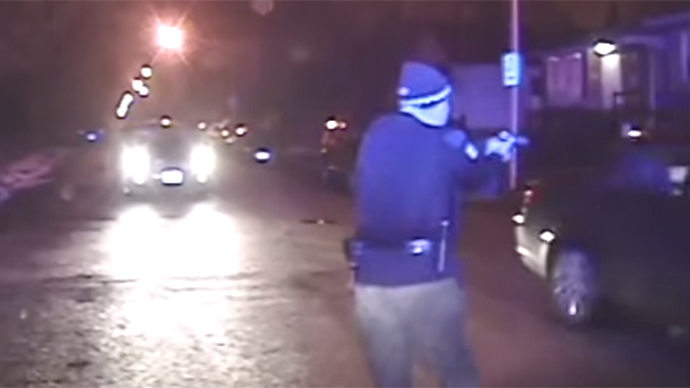 Police dashcam footage shows a Chicago police officer shooting into a car full of six black teenagers more than a dozen times. The incident happened in 2013, but the footage was just released by a retired judge.
In the nearly three-minute dashcam video, viewers see Chicago police officer Marco Proano arrive at the scene, where a vehicle had been stopped by two other officers. Proano is seen approaching the vehicle with his gun pointed sideways.
When the driver of the vehicle puts the car in reverse, and tries to do a three-point turn before crashing into a lamppost, Proano approaches with his gun pointed and opens fire into the car.
Later, the viewer sees all of the teenagers being arrested and handcuffed, with one clearly limping. Three teens were injured in the incident. Two were shot by Proano – one in the shoulder, and another in the hip and the heel.
The incident happened more than 18 months ago on Dec. 22, 2013, but former Cook County Judge Andrew Berman gave the footage, which was under protective order, to the Chicago Reporter, calling it "disturbing on a whole different level."
"You don't start firing into a car full of unarmed people," Berman told the Reporter. "You just don't do that."
Judge Berman had previously heard a criminal case involving one of the teens. The Chicago Police Department (CPD) told the Chicago Reporter that officer Proano was moved off the street and assigned to desk duty, and the matter was referred to state and federal authorities.
READ MORE: All 50 states fail to meet int'l standards on lethal force by police - Amnesty
"Each time an officer fires their weapon is a serious matter, which is why the city takes two very important steps for each shooting incident: we conduct an independent, civilian led investigation, and we refer each incident to prosecutors to determine if criminal charges are appropriate,"the statement read, according to the Chicago Reporter."Due to pending investigations by IPRA and federal authorities, CPD cannot comment further."
Proano did admit to the shooting in court documents, but said the teens did show a weapon. Proano is still on the force.
Since the 2013 incident, the CPD has changed its policy on firing at moving vehicles, saying that officers are "prevented from firing at or into a moving vehicle when the vehicle is the only force used against the sworn member or another person."
The mothers of the three teenagers who sustained injuries filed a lawsuit against the city over the shooting, and claim that the teens did not show a weapon or act violently during the police stop. The plaintiffs also alleged that police officers took the teens from the hospital to the police station for questioning without authorization. The city tentatively agreed to a $360,000 settlement, but it has still to be approved by the city council.