200 homes evacuated, 300 acres burned in uncontained Arizona blaze (PHOTOS, VIDEO)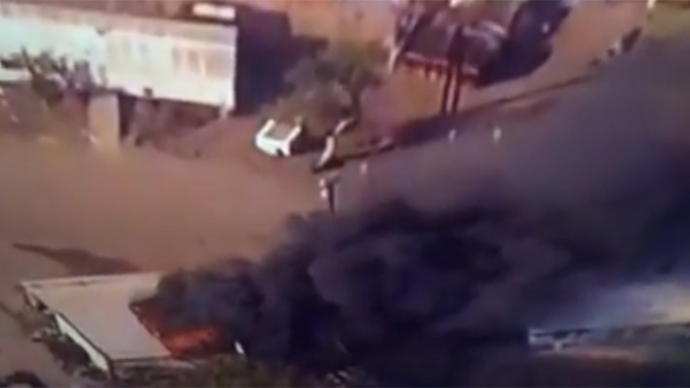 ​About 200 homes and roughly 300 people have been evacuated in Kearny, Arizona as a large brush fire raged, threatening buildings and evading containment by firefighters.
So far the flames have burned through 300 acres, according to the Arizona State Forestry divison. The blaze is zero percent contained.
No injuries have been reported in Kearny, about 85 miles southeast of Phoenix, but evacuations are taking place at a local trailer park as well as at neighboring homes.
Update: 200 homes evacuated in #KearneyRiverFirepic.twitter.com/gJulqnvF7Q

— Nicole Garcia Fox10 (@Fox10_NicoleG) June 17, 2015
According to the Arizona State Forestry division, some 25 structures are threatened by the flames, with a local high school being reported nearby.
Two residences and a couple of sheds have been caught up in the fire so far, which a local described to FOX 10 as the largest one he's seen in Kearny. An evacuation center has been set up at another high school in the area.
#KearneyRiverFire UPDATE: 70 crews, 0% containment, Ray Elementary current evacuation site. pic.twitter.com/URLatoVjNH

— AZ Family (@azfamily) June 17, 2015
While unable to contain the blaze so far, 20 engines from local fire departments are responding to the scene. Two single-engine air tankers have also been deployed, reported KPHO.
"We're kind of at the mercy of what the winds are going to do," said Mark Clark, a Pinal County Sheriff's spokesman, to the Arizona Republic.
@FOX10Phoenix Kearny Arizona...going down the river bank pic.twitter.com/5JfX7m7cWV

— Gibz (@Gibz5) June 17, 2015
Aerial footage, meanwhile, picked up the fire as it assaulted a nearby structure, with several others in the vicinity.
VIDEO: Aerial look at the #KearneyRiverFire from Chopper 3 pic.twitter.com/0QRprtX5us

— AZ Family (@azfamily) June 17, 2015
Smoke from the fire could be seen for miles, and its rapid spread forced the shutdown of State Route 177 from milepost 144 to 148, according to KPHO.
Speaking with the Arizona Republic, state Sen. Barbara McGuire (D-Kearny) said the fire looked "like a war zone."
"It looked like a volcano eruption, that's the kind of smoke there is," she said.
Wildfire 90mile SE of PHX #KearneyRiverFire 50Acres 25 structures threaten. Live update @CBS5AZpic.twitter.com/0lBih4thES

— Ashlee DeMartino (@DeMartinoNews) June 17, 2015